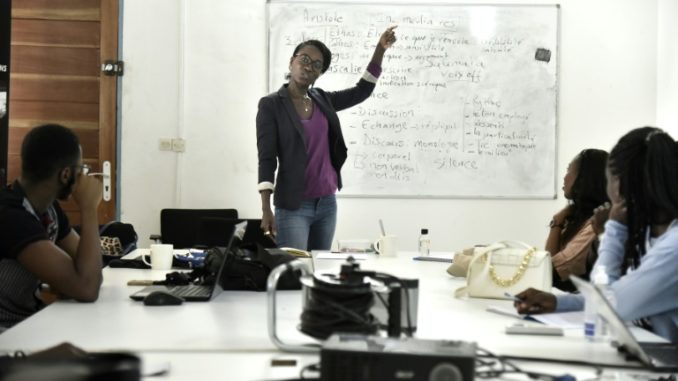 The Kourtrajmé collective and one of its stars, Ladj Ly, multi-awarded director of "Les Misérables", opened in Senegal, a year later, their first free film school in Africa, the third in less than four years after France.
Eleven aspiring screenwriters began classes Tuesday in a former professional building converted into a cultural space, a stone's throw from Independence Square, the heart of Dakar.
They should be 14, seven young women and as many men, all Senegalese, to train for five months. A few are still missing, one because he is stuck in Morocco due to the closure of the air borders because of Covid-19, another because she is in charge of a four-month-old baby.
The school was originally scheduled to open in 2021, after the one in Montfermeil in the Paris suburbs and the one in Marseille (southeast of France).
But the period was "complicated with the Covid", said Wednesday Ladj Ly, at the opening of the place to the press. Despite its notoriety, raising the funds was not easy and bureaucratic red tape has further complicated the enterprise, he explained.
"For us it is a great pride to open this school here in Dakar. It's true that it was a bit of an obstacle course," he said. "But the important thing today is that the school exists.
This inauguration "is the beginning of a great global project because the idea of these schools is really to have schools all over Africa. We started with Senegal/Dakar, we should open soon in Mali, in Abidjan, in Burkina, we have about ten school projects in French-speaking Africa", said Ladj Ly, whose family is originally from Mali.
After the student screenwriters, chosen from hundreds of applicants, the school will welcome 18 apprentice directors in June.
Ladj Ly created the first Kourtrajmé school, free and without diploma requirements, in 2018 in Montfermeil where he grew up and started filming urban violence in 2005.