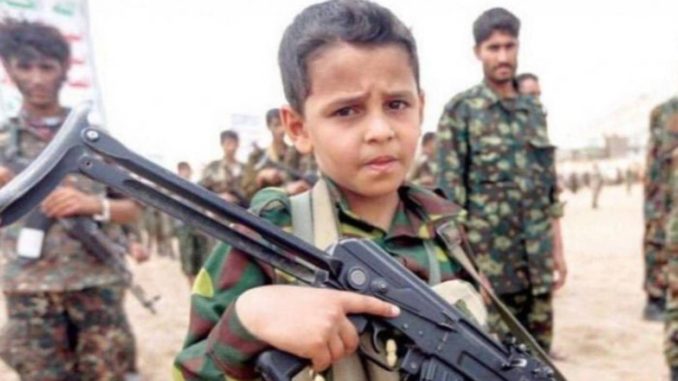 The International Alliance for the Defense of Human Rights & Freedoms (IADL) has condemned the military recruitment of children by the "polisario", saying it is "a crime liable to prosecution in international courts.
For the French NGO, the military recruitment of Sahrawi children is an "international crime" and those responsible for this criminal offense should be tried and face international prosecution.
"The recruitment of children, their exploitation and participation in armed conflicts and wars are completely prohibited and criminalized under international law", says the International Alliance, citing in this regard several multilateral conventions, organizations and treaties.
These include the UN Charter, the Human Rights Charter, the International Covenant on Economic, Social and Cultural Rights (ICESCR), the Convention on the Rights of the Child 1989, the Vancouver Principles, the Paris Principles and Resolution 2602 in operative paragraph 1.
The Sahrawi children living in the Tindouf camps, who are supposed to be in schools, end up holding weapons. They are enrolled without the consent of their parents. Several images and videos show them undergoing military training in the Tindouf camps by the Polisario.
AIDL calls for the opening of an international investigation in order to prosecute those responsible for these criminal acts before the International Court of Justice.
The International Alliance says it follows closely this case and will send official complaints to UN Secretary General Antonio Guterres, UN Envoy for the Sahara Staffan de Mistura, the Council of Europe, the European Commission and the European Parliament so that those responsible for the military recruitment of Sahrawi children be held accountable.
During the visit of Staffan de Mistura to the Tindouf camps, the Polisario propaganda media has broadcast images showing child soldiers in violation of international conventions.
Sahrawi children are forced to take part in all military and political ceremonies. Exploited, indoctrinated, filled with hatred against Morocco, they are forced to go to Cuba to undergo training and brainwashing.
This forced immigration is "a serious violation of the Protocol against the Smuggling of Migrants by Land, Sea and Air, Supplementing the UN Convention against Transnational Organized Crime the civil", says the International Alliance, affirming that the criminal responsibility of the Polisario leaders and their accomplices is well-established under these international conventions.
They send innocent children to the front line and used them as human shields against the Royal Moroccan Armed Forces.