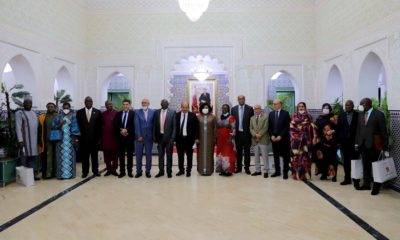 Speaker of the Parliament of the Economic Community of West African States (ECOWAS), Sidie Mohamed Tunis, commended, during a visit to Dakhla Thursday, the efforts made by Morocco, under the leadership of King Mohammed VI, to improve further "the already high standard of living" of the inhabitants of the southern provinces and to ensure stability in the region.
"The standard of living of the population of the southern provinces is clearly on the rise," said Mr. Tunis, who is leading a large delegation from the ECOWAS parliament.
The Speaker of the ECOWAS Parliament also welcomed the momentum of socio-economic development in Dakhla and Laayoune, saying he was impressed by the projects carried out in these two cities of the Moroccan Sahara.
"In the next five years, Dakhla will become a very big city, thanks to the implementation of all these ongoing development projects", he pointed out, adding that this visit enabled the ECOWAS parliamentary delegation to be aware of the situation in the southern provinces.
During his talks with local elected representatives, Mr. Tunis highlighted the economic and social development experienced by Morocco, while praising the Kingdom's strategy carried out in particular in its southern regions.
This visit allowed the members of the ECOWAS delegation to see first-hand the socio-economic development in the Moroccan Sahara and to get informed about the reality in the southern provinces.
They were also informed about the development effort undertaken by Morocco to make of the southern provinces a gateway to Africa and secure a win-win economic integration with the countries of Sub-Saharan Africa, as well as on the investment opportunities offered by the Moroccan southern provinces.
The delegation's visit was marked by the signing by the House of Advisors (upper house) and the ECOWAS parliament of the "Laayoune Declaration".
The Laayoune Declaration, signed on Wednesday, commends the important role played by Morocco under the leadership of King Mohammed VI, in major regional issues.
The document praises Morocco's key role in managing challenges related to migration, food security, health, energy security, and sustainable development.
The declaration also commends the role the West African group plays in reinforcing the process of the regional and continental integration and development, stressing the importance of south-south cooperation as a key factor in facing the challenges and stakes posed at the international and regional levels, and as a mechanism to launch a structural transformation of the economies of the region's countries, and lay the foundations for strong and sustainable growth.