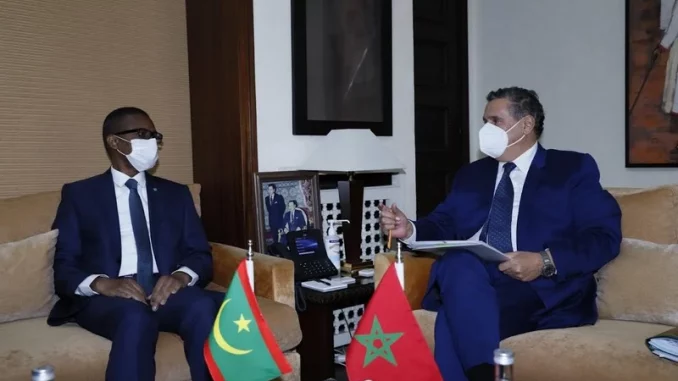 Morocco and Mauritania expressed, on Friday in Rabat, their convergence of views in terms of political consultation on a set of regional and international issues of common interest.
On the occasion of the eighth session of the Moroccan-Mauritanian High Joint Commission, co-chaired by the head of government, Aziz Akhannouch, and the Mauritanian Prime Minister, Mohamed Ould Bilal, the two sides voiced the convergence of their views on several issues, including the Maghreb region, the Palestinian cause, the conflicts in Libya, Yemen and Syria, the Sahel and Sahara region, the need for joint Arab action, and development in the African continent.
The two sides also expressed their satisfaction with the significant development of relations between the two countries over the past few years, and agreed to broaden and diversifying the areas of bilateral cooperation.
At the level of sectoral cooperation, the Moroccan-Mauritanian High Commission reviewed the aspects of cooperation in several economic, cultural, educational and technical fields, welcoming the results recorded in this regard.
It also examined ways to strengthen bilateral cooperation mechanisms in priority sectors for the two countries, and made a number of recommendations and suggestions to this effect.
The works of the 8th joint commission highlighted by the signing of 13 legal texts that include agreements, memoranda of understanding, executive programs, and a protocol.
The agreements cover various sectors, namely trade and investment, industry and tourism, housing, environment and sustainable development, security, health, culture, agriculture and fishing, asset depositing and management, in addition to professional training.