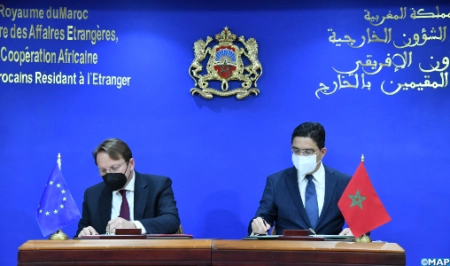 Morocco and the European Union (EU) signed this week in Rabat the document relating to the "LINK UP AFRICA" project, the first of its kind within the framework of the partnership between the Kingdom and the EU.
This project, signed by European Commissioner for Neighborhood and Enlargement, Oliver Varhelyi, and Foreign Minister Nasser Bourita, is based on the priority given by the Kingdom and the EU to the development of cooperation with Africa, according to a triangular Morocco-EU cooperation approach for the benefit of African States, and a range of convergent actions carried out by different Moroccan stakeholders.
The project, which mainly involves the Moroccan Agency for International Cooperation (AMCI) and the Belgian Cooperation Agency "ENABEL", designated as implementing partner, also gives priority to employment, socio-economic integration and citizenship of young people who have benefited from Moroccan know-how, as well as intra-African mobility and its contribution to the development of the Continent.
LINK UP AFRICA" project, spread over a period of four years, revolves around two complementary projects with a budget of €4.15 million.
The first will benefit from the EU-Morocco bilateral budget financed by the European Neighborhood Instrument (dedicated only to the AMCI) of 3.15 million euros.
The second project, worth €1 million, complements a pre-existing EU program and aims to support the 'Caisse Centrale de Garantie' (CCG) in favor of entrepreneurship and innovation in Morocco and in the countries of the African network of guarantee institutions.
"LINK UP AFRICA" project's main objective lies in strengthening technical cooperation, academic and economic ties between Morocco and other countries in Africa, with the participation of the EU, with focus on the development of economic opportunities for young Africans.
This objective is divided into two actions, namely the strengthening of the capacities of the AMCI for the implementation of its objectives of academic and technical cooperation, and the consolidation of employment opportunities and economic links for the African laureates of a Moroccan diploma (AMCI scholarship holders or not).
The said project will strengthen capacity building for the AMCI through action on its technical and academic cooperation offer, support the consolidation of the functioning and performance of the AMCI, improve support mechanisms for triangular cooperation, through their operationalization and accessibility, and establish mechanisms for selecting and referencing students with viable economic initiatives.
It will also offer a set of tools and services adapted to promote access to employment and/or business creation projects and support for innovative startups.