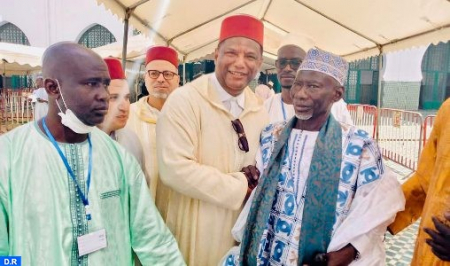 The Imam of the Great Mosque of Dakar, El Hadj Moussa Samb, highlighted, Monday, the depth of the long-standing spiritual relations between Morocco and Senegal, saying this very place of worship, inaugurated in 1964 by King Hassan II and the first President of independent Senegal, Leopold Sedar Senghor, "is the perfect illustration" of these relations.
In his preach on the occasion of Aid Al-Fitr prayer marking the end of the holy month of Ramadan, performed in the presence of President Macky Sall, and broadcast by local TV channels, the Imam recalled the depth of the secular spiritual relations between the two countries.
He noted that this monument, which is the pride of the people of Dakar, is the result of the very high solicitude of the late King Hassan II who ensured that this Mosque reflects the architectural and artistic know-how of Moroccan craftsmen. This solicitude is perpetuated by King Mohammed VI, Commander of the Faithful, who has always ensured the maintenance of this architectural jewel and the regular renewal of places dedicated to prayer, as evidenced by the Rbatis carpets furnishing the prayer rooms, said the Imam.
He emphasized the spirit of fraternal communion that characterizes the Moroccan presence in Senegal and Senegalese presence in Morocco and which reflects the depth of spiritual and cultural relations and blood ties between the two peoples.
At the end of this religious ceremony, President Macky Sall asked Morocco's ambassador to Dakar, who was present at the mosque for the Aid prayers, to convey to his brother King Mohammed VI his fraternal greetings and his wishes of good health and prosperity.