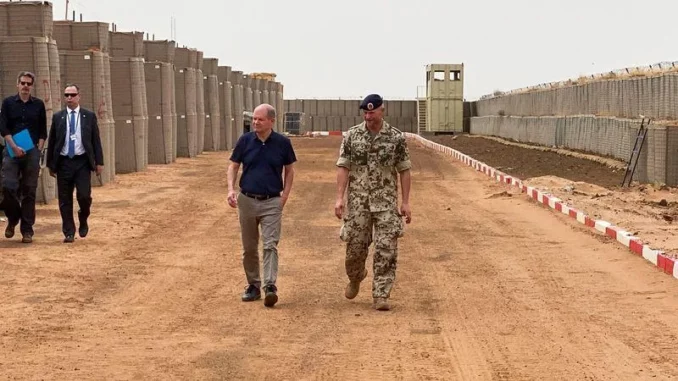 Niger's President Mohamed Bazoum on Monday hailed military cooperation with Germany as "a model" to be followed by his country's other partners, following a meeting in Niamey with German Chancellor Olaf Scholz.
For its "Gazelle" mission to train Nigerien special forces in western Niger, "Germany has made great investments in infrastructure, the construction of airfields, buildings, and provides high quality training that is appreciated in a unique way by our army," said Bazoum at a joint press conference with Scholz.
"I would like to congratulate you for the work we have done together and which will now be a model to which we will point all our other partners," he added. The Nigerien Head of State hoped that the "Gazelle" mission, which ends in 2022, would be extended.
Olaf Scholz said that the German Parliament "has already given its green light to an extension". "We need to see what the future prospects are and what the details of (the continuation) of this cooperation are," he added, adding that "the success achieved so far is already a good motivation to continue.
The German Chancellor visited the German soldiers of "Gazelle" in the region of Tahoua (west) on Monday morning and said he could see "how successful it really is". He said that "the security situation in the Sahel is very difficult", and that "we really need good cooperation to ensure security in the region".
He recalled that his country was ready "to continue to provide" its "contribution" to the United Nations Mission in Mali (UNMISMA).