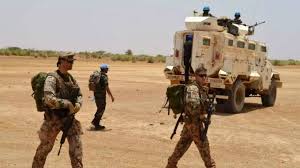 Several strikes against a column of motorbikes have neutralized on June 14 "nearly forty terrorists" near the border between Niger and Burkina Faso, announced Thursday the staff of the French army. The Barkhane force, after leaving Ménaka at the beginning of the week, is continuing its re-articulation outside Mali.
The Islamic State in the Great Sahara, whose main leaders have been neutralized over the past two years, is now taking advantage of the French withdrawal to regenerate itself on the Malian side. The assault carried out on Tuesday 14 June by around fifty fighters against a detachment of the Nigerien gendarmerie, in the isolated village of Waraou, illustrates the porous nature of the Malian-Nigerien border.
The rapid reaction of the Nigerien armed forces reassures the army headquarters in Paris today. They immediately warned the French air force based in Niamey, says a military source, and the passage of a Mirage 2000 patrol at low altitude was enough to disperse the jihadists.
Then, intelligence obtained from Nigerien units that had remained in contact allowed Barkhane planes to strike the same column. A reassurance operation that worked perfectly thanks to the Gata, the advanced tactical airborne monitors of the Nigerien armed forces. They are the keystone of the combat partnership, at the forefront of the operation.