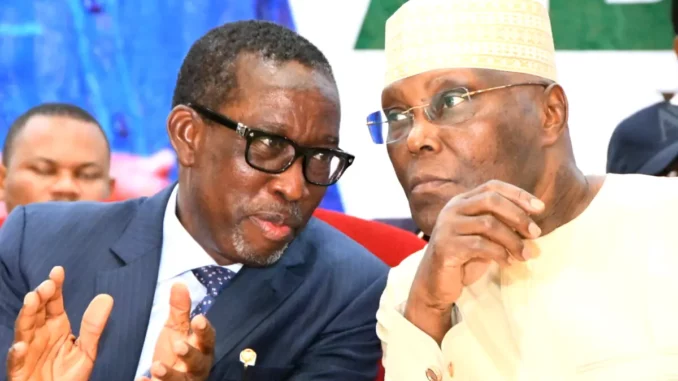 In Nigeria, the presidential candidate of the main opposition Peoples Democratic Party (PDP), Atiku Abubakar, has nominated a southern governor, Ifeanyi Arthur Okowa, as his running mate.
"I am delighted to announce Governor @IAOkowa as my vice presidential candidate. I look forward to travelling to our great country with him, to interact with all Nigerians together and build a future of peace, unity and prosperity for all. United we stand," Atiku Abubakar tweeted.
It is in these terms that the candidate of the main opposition party, the People's Democratic Party (PDP), 75 years old, announced the name of the one who will be his vice-president if he is elected president of Nigeria on 25 February 2023.
Ifeanyi Arthur Okowa was born on 8 July 1959. He obtained his MD from the University of Ibadan, Nigeria. Married, he was elected as a senator in 2011 under the PDP banner to represent Delta North in the south.
Prior to that, Dr Okowa served as the Secretary General to the Delta State Government and Commissioner for Health. In 2015, he was elected governor of Delta State in southern Nigeria, a position he holds to this day.
Former Vice President Atiku Abubakar, a Muslim from Adamawa in northern Nigeria, had to choose a running mate from the predominantly Christian south of the country to conform to the geopolitical balance of Africa's most populous country. His choice is therefore not a surprise.