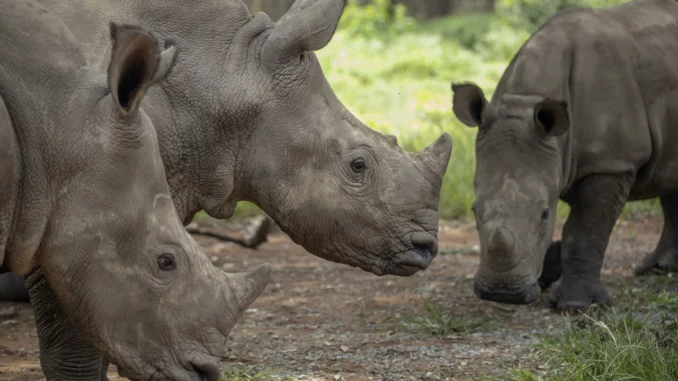 Poachers suspected of being responsible for the deaths of four rhinos have been arrested after an impressive hunt by sniffer dogs, helicopters and rangers in four-wheel drive vehicles in Kruger Park, South Africa's largest game reserve, the park announced.
It all started on Friday with a tourist reporting hearing two gunshots. The operation was immediately launched. The reserve's rangers, from a helicopter, saw a carcass and a wounded rhino at his side, the national parks management said in a statement. Two other dead rhinos were found in the area and a second helicopter was mobilized.
It was the dogs, finally, that "indicated a precise area where three suspects were found and arrested," the statement continued, adding that they were Mozambicans who had entered the country illegally, equipped with a high-caliber hunting rifle and ammunition. The horns of three rhinos were found in their belongings. The wounded rhino had to be euthanized afterwards, as the severity of the bullet wounds made it impossible to save it, according to the statement.
The huge Kruger Park (north-east), almost the size of Belgium, borders Mozambique and Zimbabwe. Its wealth of wildlife is one of South Africa's main tourist attractions. Its rhino population has been ravaged by poaching. The park had 3,259 white and 268 rarer black rhinos last year, half the number in 2013, according to the NGO Save the Rhino.
South Africa is home to nearly 80% of the world's rhinos. They are hunted to meet the high demand for their horns in Asia, where they are used in traditional medicine or for their alleged aphrodisiac properties.