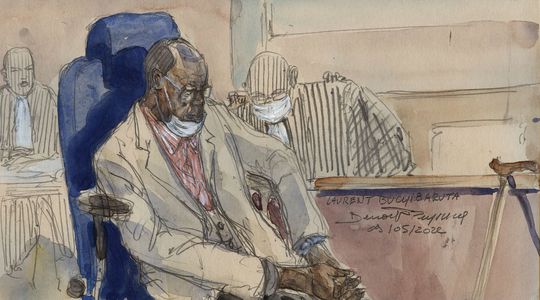 More than 28 years after the extermination of the Tutsis in Rwanda, the former Rwandan prefect was sentenced on Tuesday 12 July by the Paris Assize Court to twenty years of criminal imprisonment for complicity in genocide.
Laurent Bucyibaruta, 78, who was appearing free, left the courtroom escorted by the gendarmes, leaning on his cane. He had time before that to talk with his lawyers and a relative on a bench. Behind him, the sobs of his supporters could be heard.
The former senior official was found guilty as an "accomplice to genocide" and an "accomplice to crimes against humanity". These charges relate to killings committed at the Murambi Technical School, the parish of Cyanika, the parish of Kaduha, the Marie-Merci school, in particular, as well as at the level of the barriers of the province of Gikongoro, where he was prefect. The prosecution had requested life imprisonment on Friday.
Laurent Bucyibaruta was however acquitted of the charges of genocide and crimes against humanity as the perpetrator, particularly for the acts committed at Gikongoro prison and the parish of Kibeho. For the latter massacre, which occurred at the beginning of the genocide, the court considered that it lacked information on the extent of the genocidal project at that time.
This was a huge disappointment for the civil parties, as 40,000 people perished on this site. But "tonight, Laurent Bucyibaruta is in prison, where he should have been for 20 years," said one of them.
His defence had pleaded for acquittal on Monday 11 July, calling on the Paris court of assizes to "choose courage". In his last words to the judges and jurors before they retire to deliberate, the former senior civil servant had made a point of addressing "the survivors of the genocide". "I would like to tell them that it never occurred to me to abandon them to the killers," Laurent Bucyibaruta said, wearing a beige jacket over a light blue shirt and a surgical mask under his chin.