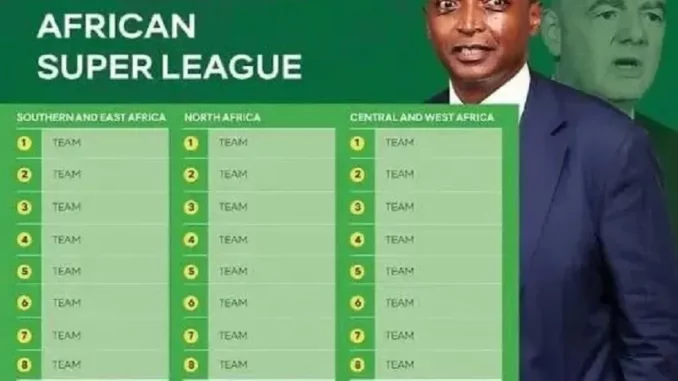 The Confederation of African Football (CAF) announced on August 10 in Arusha, Tanzania, the official launch of the African Super League from August 2023 to May 2024. A competition that should mark the beginning of a new era for African football.
"The African Super League is one of the most important innovations in the history of African football and the objective is very clear: to ensure that African club football will be able to compete with the best football in the world. African clubs must be able to compete," said CAF president Patrice Motsepe as FIFA president Gianni Infantino looked on.
The African football body has confirmed that the competition will pit the continent's 24 best clubs from 16 different countries against each other. The clubs will be divided into three geographical groups of eight teams each (North Africa, Central and West Africa, and South and East Africa) in the first phase. During this phase, the 8 clubs in each group will play each other in two legs and each team will play 14 matches during this first phase.
At the end of the group stage, the top five teams in each group and the best sixth-placed team from all groups will play in the knockout phase starting in the Round of 16. This will mark the end of the geographical distribution.
A total of 197 matches will be played, the last of which, the final, is already expected to be the SuperBowl of Africa, in reference to the final of the American football championship, which attracts 100 million viewers each year.
The prize money for the competition will be $100 million. The winner is expected to pocket $11.5 million. Thanks to the revenue generated and with the support of FIFA, CAF plans to pay one million dollars annually to each of its 54 member associations, as well as contributing 50 million dollars to its development fund.
The first 24 clubs to be included in the African Super League will receive a contribution of $2.5 million to buy players and pay for transport and accommodation during the competition. It is not known whether this huge sum ($60 million) is part of the $100 million prize money or whether it will be additional.