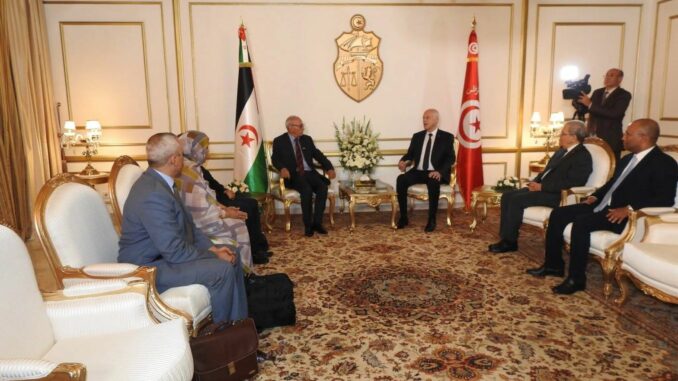 In a bid to get the praise of Algerian rulers for their financial support, Tunisian president Kaïs Saïed, chose the path of hostility against Morocco, taking side with the enemies of the Kingdom.
He invited Brahim Ghali, chief of armed militia, to the 8th edition of the Tokyo International Conference on African Development (TICAD) due in Tunis Aug.27-28.
Knowing that such a move will irk Morocco, he added fuel to fire and went even further in his provocations. He reserved a warm welcome to the polisario leader, a serious and unprecedented act, which has hurt the feelings of the Moroccan people.
In response to these provocative acts, Morocco decided to withdraw its ambassador to Tunisia and boycott the 8th TICAD summit.
The Moroccan Foreign ministry issued a statement saying that the Tunisia of Kaes Saed has confirmed today its hostility against Morocco after having showed recently a series of negative stands.
The decision of boycotting the eighth TICAD summit and recalling immediately Morocco's ambassador to Tunisia for consultations, does not affect the strong ties existing between the Moroccan and Tunisian peoples, sharing a common history, said the FM ministry statement, stressing that Morocco remains committed to TICAD and attached to the interests of Africa and its action within the African Union.
President Kais Saed, whose country is reeling from a deep political and economic crisis, pins high hopes on TICAD to attract Japanese investment.
But the event is heading towards a total fiasco with mounting logistical problems, while several personalities and leaders, who were expected to attend the Tunis gathering, will not show up in solidarity with the North African Kingdom.