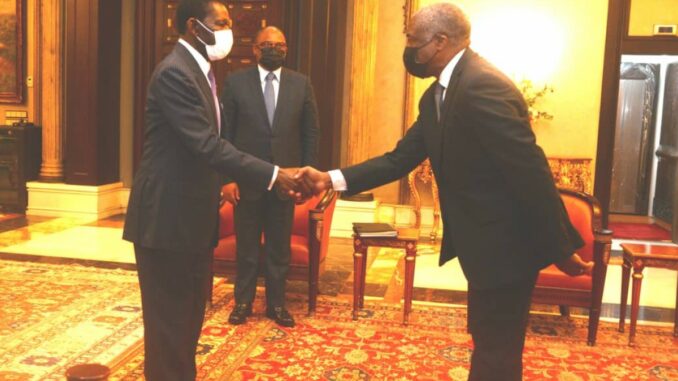 The President of the Equatorial Guinea Republic, Obiang Nguema Mbasogo, received on Wednesday, 7 September, the Minister of Foreign Affairs of the Republic of Angola, Tete Antonio, followed by the new President of the Development Bank of Central African States-BDEAC, Dieudone Evou Mokou. The audiences took place in the Ambassadors' Hall of the People's Palace.
In the first of them, in addition to receiving a textual message sent by his Angolan counterpart, H.E. Obiang Nguema Mbasogo and the special envoy of President Joao Manuel Lorenzo, they addressed bilateral issues with special attention to the joint commission created by the two countries.
''We have brought a message from President Joao Lorenzo to his counterpart in Equatorial Guinea. It is normal to have this type of visit and recently, we formed a joint Angola-Equatorial Guinea commission. There are many aspects that are included in this commission, which we are following up. But as you know, we have very close relations. In this area of cooperation, the Angolan Head of State has sent us to deliver the message to his Equatorial Guinean friend", said the special envoy.
The Minister Delegate of Foreign Affairs, Pedro Nguema Ndong and the Ambassador Counselor Chief of State Protocol, Teodoro Biyogo Nsue Okomo accompanied Obiang Nguema Mbasogo during this audience.
With the new President of the Central African States Development Bank, Diedonné Evou Mekou, who came to present himself to the Head of State and Government, the focus was on sub-regional economic current affairs.
"I have just been appointed President of the BDEAC by the CEMAC Conference of Heads of State. I am here first of all to pay my respects to the Head of State and to thank him for my appointment. I have also come to receive guidance to enable me to better exercise this arduous task of leading the banking institution of the sub-region," said Dieudone Evou Mokou, who added: "During the meeting, we touched on current economic issues; the war between Ukraine and Russia that is affecting our economies and the Covid-19 pandemic, among other issues that hinder the development of our economies.
The Minister of Finance, Economy and Planning, Valentin Ela Maye, closely followed the development of this first meeting between the nation's leader and the current head of the Development Bank of Central African States.