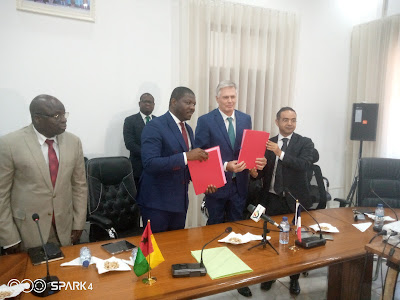 France on Tuesday provided Guinea-Bissau with five million euros in budgetary support to "strengthen the macroeconomic base" of Guinea-Bissau, said the French ambassador in Bissau, Terence Wills.
The support aims to strengthen the macroeconomic base of Guinea-Bissau and is "a mark of confidence" in the country, said the French ambassador at the end of the signing of the agreement to provide financial support with the Guinean Finance Minister, Ildio Té.
According to Terence Wills, the support also aims to demonstrate that France is working "directly with the government" of Guinea-Bissau because macroeconomic consolidation is "important to attract investors."
The ambassador also announced the opening of a new French school in Guinea-Bissau in September, which will be taught in French, English and Portuguese, and will train agronomists to support the development of the agricultural sector.
Referring to the global crisis, the diplomat said it is "an opportunity for Guinea-Bissau to change its economic model" and increase its agricultural production, not only for its food self-sufficiency, but also to export to neighboring countries.
The Guinean Finance Minister, Ilídio Té, stressed that France's support shows that the country is "undergoing a paradigm shift.
The leader recalled that since the political-military conflict of 1998/1999, the diplomatic relationship between the two countries had not been "so dynamic."
"Guinea-Bissau is at a different stage in its international credibility," he said, pointing out that that credibility is also related to the fact that the country is working with the International Monetary Fund.
According to the minister, it is "time to think about Guinea-Bissau" and leave aside "partisan issues," because development is for all Guineans.