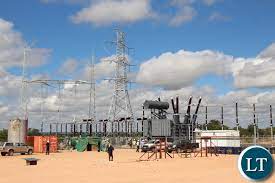 Zambia has started a rotating power cuts program to cope with the supply deficit caused by the drop in production levels at the country's thermal and hydroelectric power stations, the state-owned electricity company ZESCO said Tuesday.
"This decision comes after the planned suspension of the coal-fired power plant in Maamba (south) for maintenance operations, as well as the drastic drop in the water level at the Kariba dam," said ZESCO spokesman Henry Kapata.
He said the reduction in output at the hydropower plant from 1,080 megawatts to less than 400 megawatts has affected the company's ability to meet electricity demand, especially during the morning and evening peak periods.
"To mitigate the effects of load shedding, ZESCO plans to optimize power generation at all other power plants, while ensuring that the power system is not overloaded," he continued.
Economist Lubinda Haabazoka pointed out, in this regard, that load shedding has enormous negative effects on households and businesses, increasing the cost of production, limiting business opportunities and contributing to price increases.
Recalling that power generation capacity has been increased in recent years from 1,800 megawatts in 2010 to 3,200 megawatts in 2021, he pointed out that actual generation depends on the amount of water in the rivers.
"From 2014, Zambia has experienced low rainfall, which has led to the drying up of many small rivers, especially on the Copperbelt," he lamented.
Haabazoka also noted that the successive years of drought have had an impact on economic growth, as the country has spent more foreign exchange on electricity imports, while companies have been forced to reduce production.