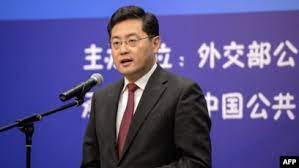 China's new Foreign Minister Qin Gang is starting his term in office with a weeklong trip to five African countries, following in the footsteps of his predecessors over the last three decades, the Foreign Ministry announced.
Like his predecessors, who have started each year with a trip to Africa, Qin Gang, who until recently was ambassador to the United States, will visit Angola, Benin, Egypt, Ethiopia and Gabon January 9-16. In Egypt, Qin is also expected to meet the Arab League secretary-general. "It shows that China attaches great importance to the traditional friendship with Africa and the development of China-Africa relations," spokesperson Wang Wenbin said at a daily media briefing.
56-year-old Qin was appointed foreign minister on December 30, succeeding Wang Yi who has now replaced Yang Jiechi as the government's top foreign policy official.
The United States and France has been looking to rebuild relationships with Africa just as Russia's sphere of influence is widening and China has sought to strengthen its foothold on the continent, becoming a major trading partner of the continent and investor in infrastructure and mining projects. Some commentators have called the China-Africa cooperation a symbiotic relationship from which both parties stand to gain. But there have also been controversies about a perceived "debt trap" and China's "palace diplomacy" — funding huge infrastructure projects for African governments to secure influence within their ranks.