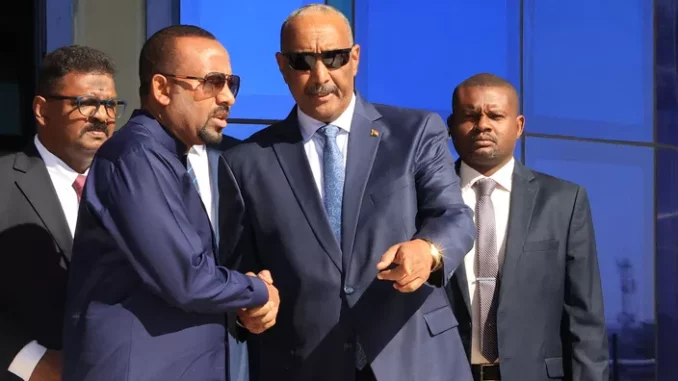 General Abdel Fattah al-Burhane, the head of Sudan since his coup, assured on Thursday that he was "in agreement on all points" with Ethiopian Prime Minister Abiy Ahmed, whom he was receiving on the subject of his mega-dam on the Nile.
During Abiy Ahmed's first visit of to his neighbor since August 2020, General Burhane assured in a statement that "Sudan and Ethiopia agree on all points on the Renaissance Dam."
When Addis Ababa began construction of this huge structure on the Blue Nile in 2011, it aroused the ire of Egypt, downstream, which fears for its water supply. In recent years, Khartoum's position has varied, sometimes alongside Cairo and other times alongside Ethiopia.
Abiy Ahmed, however, has so far not mentioned the Grand Renaissance Dam (GDR) in tweets on his discussions in Khartoum. He said he had stressed to General Burhane and his number two, General Mohammed Hamdan Daglo, Ethiopia's "non-interventionist principle".
He said it was necessary to "rely on the multiple capacities of the Sudanese people to face their own challenges" and to find "local solutions" to get out of the post-Putsch crisis.
On December 5, Sudanese civilians and the military signed a framework agreement for a way out of the crisis, applauded by the UN, the African Union and several countries, but which remains very general and sets few deadlines. The ultimate goal is to re-establish a civilian government, as was established after the revolt that led the army to remove dictator Omar al-Bashir in 2019.