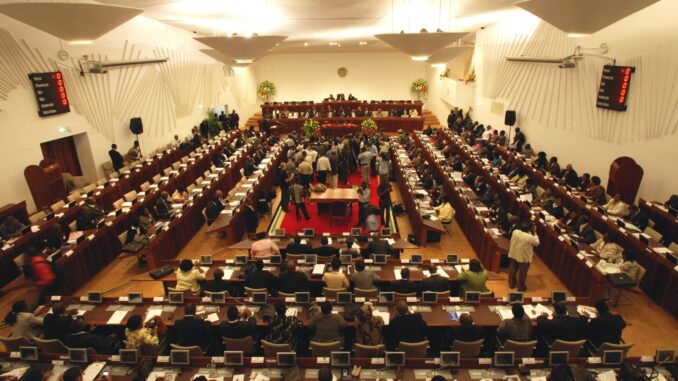 The Mozambican parliament has scheduled for the next session the debate on the election of district assemblies, in a context in which the President of the Republic, Filipe Nyusi, has already cast doubt on the viability of this ballot.
The debate on the bill is the 25th item on the agenda of the seventh ordinary session of the Assembly of the Republic, which kicks off on 22 and runs until the end of May.
The holding of the first district elections in the history of Mozambique is scheduled for 2024 and results from the one-off revision of the Constitution of the Republic carried out in 2019, following an agreement between the government of the Mozambique Liberation Front (Frelimo) and the Mozambican National Resistance (Renamo), the main opposition party.
According to the country's fundamental law, the ballot should take place in the 2024 general elections, but the holding of the ballot has been cast in doubt by the President of the Republic and Frelimo, leading to a strong challenge from the opposition.
In December, Filipe Nyusi, during his annual briefing in Parliament, announced the creation of a consultative group to assess the feasibility of district elections.
By debating the bill on the election of district assembly members, "parliament is playing its part, but this does not necessarily mean that there will be district elections in 2024, because after the approval of the law, other subsequent acts will be missing", a parliamentary source told Lusa.
The parliamentary agenda also marked for the next session the debate of the bill on the institutional framework of the districts.
On the list of matters to be dealt with by the end of May, parliament has scheduled, for the fourth time, the draft laws on social communication and broadcasting, whose debate has been postponed.
The two instruments have been contested by media organizations and civil society organizations.
Among the concerns is the advocacy for a media authority under the executive and the maintenance of the criminalization of press offenses, at a time when it is recommended that this matter be dealt with at the level of the Civil Code.
The items on the agenda for the next session also include the draft law on the promotion and protection of the disabled, the law on non-profit organizations, the law on research in human health and the law on the election of members of district assemblies.
The draft law on legislative authorization for the creation of Mozambique's national specific data infrastructure and the draft law on legislative authorization for the review of the Notaries Code are also on the agenda of parliament's work.
MPs will also debate the draft law creating the sovereign fund, an item that had already been put forward on Wednesday by parliament spokesman Alberto Matukutuku.
The Mozambican parliament is controlled by Frelimo, with a qualified majority of 184 of 250 seats, followed by Renamo with 60 seats and the Mozambique Democratic Movement (MDM) with six seats.