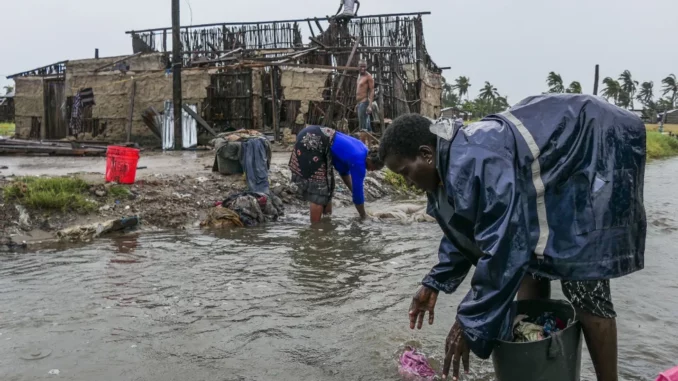 Tropical Cyclone Freddy's new passage through southern Africa has caused at least 99 deaths in southern Malawi and eight in Mozambique since Sunday, according to the latest figures released.
At a press conference in Blantyre (south), the country's economic capital and second city, the Commissioner of the Department of Disaster Management, Charles Kalemba, confirmed the death toll, of which 85 were recorded in Blantyre.
In addition, 134 people were seriously injured in Blantyre alone, according to the local press, which quotes Kalemba. According to the official, about 4,000 families have been affected, equivalent to more than 10,000 people.
The Ministry of Natural Resources and Climate Change warned that the cyclone "will continue to cause torrential rains associated with gusts and strong winds" in areas of southern Malawi.
Scheduled flights at Blantyre airport were canceled and schools closed after flooding caused by overflowing rivers affected residential areas, cutting off roads and destroying homes. According to the Department of Disaster Management, the cyclone could cause cumulative rainfall of between 400 and 500 millimeters in the south of the country within 72 hours before losing strength on Wednesday.
In addition to Blantyre, flooding is expected in the districts of Nsanje, Chikwawa, Thyolo, Mwanza, Mulanje, Phalombe and Zomba. Malawi declared on Monday a state of calamity in several parts of the southern part of the country.
This cyclone, which made an arc trajectory rarely observed and is described as "out of the norm" by meteorologists, is also affecting Mozambique, for the second time.
In this Lusophone country, at least eight people died due to the passage of the cyclone in Zambezia province, according to preliminary data advanced by the Ministry of Health. Of the total number of deaths in Mozambique, seven occurred in the city of Quelimane, the provincial capital, and one in the district of Mocuba, and "there is also a considerable destruction of infrastructure" said the Minister of Health, Armindo Tiago to the media in Zambezia province.
Several neighborhoods of Quelimane city are without power and telecommunications. Cyclone Freddy has already lost strength and is now a tropical storm, but it is still expected to cause heavy rain until Wednesday in central Mozambique.
This is the second time this cyclone has hit Mozambique, after a first hit on February 24, causing 10 deaths due to adverse conditions over several days.
Freddy is already one of the longest-lasting cyclones and has traveled the longest trajectory in recent decades, covering more than 10,000 kilometers since it formed in northern Australia on February 4 and crossed the Indian Ocean to the south of the African continent.
The cyclone first hit the east coast of Madagascar on February 21 and, after hitting Mozambique, returned to the island on March 5, where nearly 300,000 people were affected and 17 died, according to United Nations figures.