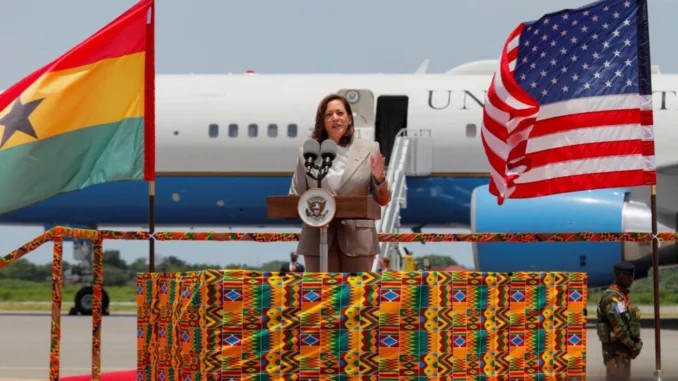 Kamala Harris arrived in Accra on Sunday, March 26. The U.S. Vice President begins a tour of the continent until April 2, with a three-day stopover in Ghana, before leaving for Tanzania and then Zambia. A strategic visit that aims to strengthen Washington's diplomatic ties with the continent, a few months after the holding of a U.S.-Africa summit in the American capital.
"What an honor to be here in Ghana, and on the African continent. I am very excited about the future of Africa. I'm very excited about the impact of Africa's future on the rest of the world. When I look at what's happening on this continent and the fact that the average age is 19, what that tells us about the growth of innovation and opportunity. I see this as a great opportunity, not just for Africans, but for the rest of the world," the U.S. vice president said as she got off the plane.
For Washington, one of the objectives of this trip by Kamala Harris is to change the American perception of Africa at a time when Washington wants to create a great partnership with the continent.
This is evidenced by the string of visits to Africa by U.S. officials in recent weeks. After the Secretary of State, the Secretary of the Treasury, the First Lady, it is now the Vice President's turn.
So in Accra, Kamala Harris will be taking a close look at Ghana's youth. This Monday, she will visit a skate park and a recording studio for local artists, before a dinner with President Nana Akufo-Addo.
The purpose of this tour is also to talk about the climate crisis, food security and increased investment in Ghana, Tanzania and Zambia, three countries whose democratic qualities Washington praises.
But behind these American words is also the struggle for influence with Russia and China.
First of all, on the security front, with the presence of Wagner's militia on the continent. In the economic field, Washington hopes to counter the influence of China. Beijing is the leading creditor of many countries, including Ghana, which is now over-indebted and facing a deep economic crisis, with inflation at over 50%.