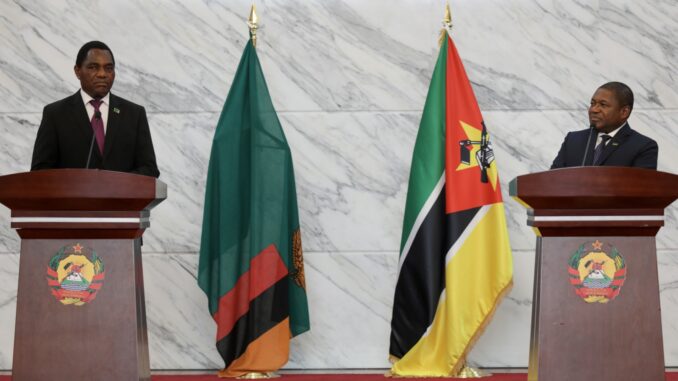 The President of Zambia, Hakainde Hichilema, on Tuesday expressed his solidarity with Mozambique due to the armed violence in Cabo Delgado, in the north of the country, during a meeting with his Mozambican counterpart in Maputo.
"We are with you on the issue of northern Mozambique, the situation is worrying," the Zambian President said moments after a meeting with Mozambican head of state Filipe Nyusi at the Presidency of the Republic.
Hakainde Hichilema arrived in Mozambique yesterday for a three-day state visit, following an invitation by his Mozambican counterpart.
The head of state of Zambia, a country that is part of the Southern African Military Mission supporting Mozambique in the fight against terrorism in Cabo Delgado, said he will "promote peace and stability" when he assumes the rotating chairmanship of the troika of the Southern African Development Community (SADC), reiterating that the body supports and sympathizes with the situation in Cabo Delgado.
"Stability in one country is stability in another country, in the region and on the continent. We have seen what wars can do," Hichilema stressed.
Cabo Delgado province has faced an armed insurgency for five years with some attacks claimed by the extremist group Islamic State.
The insurgency has led to a military response since July 2021 with support from Rwanda and the Southern African Development Community (SADC), liberating districts near gas projects, but new waves of attacks have emerged south of the region and in neighboring Nampula province.
During the meeting, the two heads of state also talked about, among other issues, the Disarmament, Demobilization and Reintegration (DDR) process of the armed arm of the Mozambican National Resistance and the monthly presidency of Mozambique at the United Nations Security Council, and discussed the possibility of direct flights between Maputo and Lusaka.
"This was a unique, formal and official opportunity to deepen our relations of friendship, solidarity and cooperation," Mozambican President Filipe Nyusi said, speaking after the meeting with his counterpart.
Hakainde Hichilema's visit to Mozambique aims to "deepen and consolidate good neighborliness, solidarity and cooperation" between the two countries, in addition to serving to exchange views on "the African continent and the world," indicates the Mozambican Presidency.
This is the first visit that the President of Zambia makes to Mozambique since he took office in 2021.