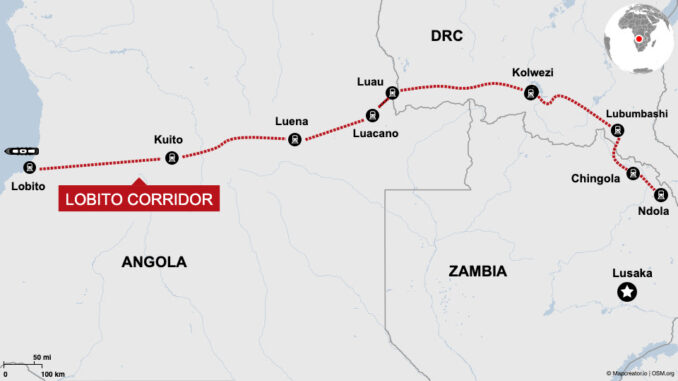 The Angolan President, João Lourenço, will this Tuesday mark the start of the Lobito corridor rail concession, a ceremony that will be joined by his counterparts from Zambia and the Democratic Republic of Congo (DRC).
The Angolan President arrived on Monday in Benguela province to witness the transfer of rail services and logistics support of Lobito corridor to the consortium that will manage the infrastructure, under concession for 30 years.
Presidents Hakainde Hichilema, of Zambia, and Félix Antoine Tshisekedi, of DRC were also invited to the ceremony that marks the start of the concession of this strategic rail corridor for the connection of mining regions and export of goods, which links Lobito (eastern Angola) to Luau (west), near the border with DRC.
The construction of a branch line to Zambia is also planned. The three countries signed in January an agreement to create a transport and facilitation agency for the Lobito Corridor, to boost the circulation of goods and promote the mobility of citizens.
The Lobito corridor concession was awarded to LAR – Lobito Atlantic Railway, a company comprising the Swiss Trafigura, the Portuguese Mota-Engil Engenharia e Construção África SA, and the Belgian Vecturis SA, which signed the contract with the Angolan Ministry of Transport, in November last year in Luanda.
The Lobito corridor encompasses the port of Lobito, the mining terminal and the Benguela railroad (CFB), which stretches more than 1,300 kilometers, from Benguela province to Luau, in Moxico province.
It then continues for another 400 kilometers in DRC to Kolwezi, the heart of the mining area known as the Copperbelt, and is directly linked to the railway network run by the Sociedade Ferroviária Nacional do Congo (SNCC).
To start the concession, LAR has an estimated investment of $455 million (417 million euros) in Angola and up to $100 million (92 million euros) in DRC. To make the most of the railroad's potential, 1,555 wagons and 35 locomotives will be purchased to run on the Angolan side of the corridor.
The concession contract can be extended up to 50 years if the consortium opts to build the branch line between Luacano (Moxico) and Jimbe (Zambia), with a total length of 259 kilometers, valued at 3.6 million dollars (3.3 million euros) per kilometer.