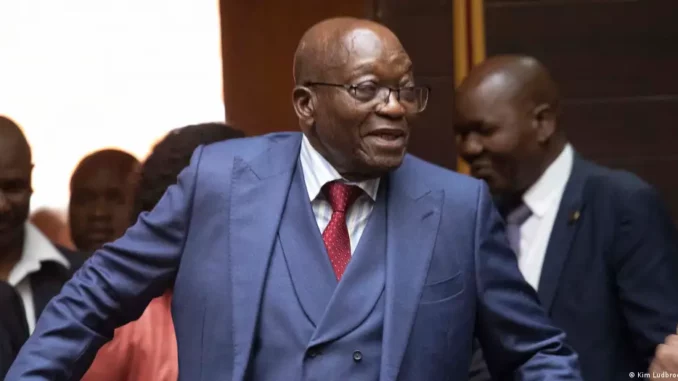 Former South African President Jacob Zuma, 81, made a brief appearance in prison on Friday before being released immediately as part of sentence remissions announced the same day by the government, the prison administration announced.
"A decision has been taken" for Mr. Zuma, convicted of contempt in 2021 and who had spent two months behind bars before being released on medical grounds, "to go to Estcourt Correctional Centre", in Zulu country (east), said the head of prison services, Makgothi Samuel Thobakgale. "He arrived at six o'clock this morning and was admitted into the system" before being "submitted to a remission procedure" and released an hour later, he added before the press in Pretoria.
These remissions of sentences for "non-violent convicts" were approved by President Cyril Ramaphosa because of prison overcrowding in the country, according to a statement from the Ministry of Justice. They should enable the release of more than 9,000 prisoners in the country.
Last month, South Africa's highest court reiterated that Mr. Zuma should return to prison to finish serving a 15-month sentence for contempt, rejecting an appeal that he be spared.
Mr. Zuma was sentenced in June 2021 for stubbornly refusing to answer a commission investigating corruption under his presidency (2009-2018). His imprisonment a few days later triggered several days of rioting, leaving over 350 people dead.
Removed from the country's presidency in 2018 for corruption and still being prosecuted in several cases, Mr. Zuma was once the feared head of intelligence during the ANC's time in exile, whose middle name Gedleyihlekisa means in Zulu "he who laughs as he crushes his enemies". He spent ten years in Robben Island penitentiary alongside Nelson Mandela.