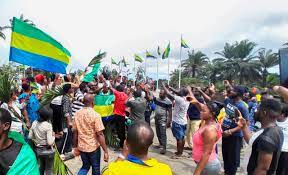 While widely criticized by other African nations and in the West, the recent coup in Gabon has now finally received a nod of approval, when it was tagged as a "good coup" by a West African financial executive.
The Gabon coup faces intense international scrutiny, with even the West African bloc ECOWAS considering military intervention if the coup leaders fail to restore a democratic government in due course. But this did not prevent Sanjeev Gupta, a senior executive from the African Finance Corporation (AFC), to assert that since the 30 August coup in Gabon — and the eighth rebellion in West and Central Africa since 2020 — was executed peacefully and with society and business operating as usual, it appeared to be a "good coup". Gupta also noted last week that economic activities in the Central African state have hardly been affected, and business is going on as though the region didn't just experience a major political shift.
However, the same body had a conflicting opinion on the matter in an email to Bloomberg, where Samaila Zubairu, the CEO of the AFC, a major financial institution with a large exposure to Gabon, relayed that the AFC has halted a project in a state where it has made investments. The rise of the juntas in Africa is "very worrying, especially with the seeming appeal of the changes to the mass populace," Samaila Zubairu said. Aptly entitled "Deterring Would-Be Putschists in Africa is Getting Harder," a recent analysis in The Economist points out that "Africa's young democrats often employ only black humor at the frequent sight on TV of uniformed men announcing that they have overthrown the government." It blames "Russia, hypocrisy and pragmatism" for the fact that the African Union's "no coup policy" — instituted in 2000, which was based on the threat of swift suspension from African institutions, isolation and sanctions as deterrent against potential coups — seems to no longer work as originally envisioned.