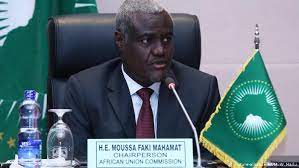 The head of the Sudanese Army, General Abdel Fattah al-Burhane, lashed out at the African Union on September 10. He said he could do without its help in the conflict, which has already claimed nearly 7,500 lives in almost five months.
Relations between the Army and the African Union (AU) became strained after a meeting last week between the chairman of its Commission, Moussa Faki Mahamat, and the Rapid Support Forces (RSF) political advisor, Youssef Ezzat.
On Monday, the Sudanese Foreign Ministry described the meeting as a "dangerous precedent". The pan-African organization "should not give space to rebel movements or terrorist militias", it added on its Facebook page, in apparent reference to the RSF, which General Burhane disbanded this week.
And on Saturday, General Burhane asserted that he "doesn't need help" from the AU if the pan-African organization didn't change its approach, according to a statement published on the army's Facebook page. He also lashed out at the East African regional bloc, IGAD, after the Ministry of Foreign Affairs criticized Kenya, which chairs the organization, for supporting the RSF.
On Thursday September 7, the AU Commission issued a statement affirming its commitment to dialogue "with all parties", an "identical approach" to that adopted by other international players who have attempted mediation, and which has not given rise to "reservations" on the part of Sudanese players.
Sudan was suspended from the AU following the 2021 putsch led by general Burhane, who was then allied with Daglo before becoming his enemy.