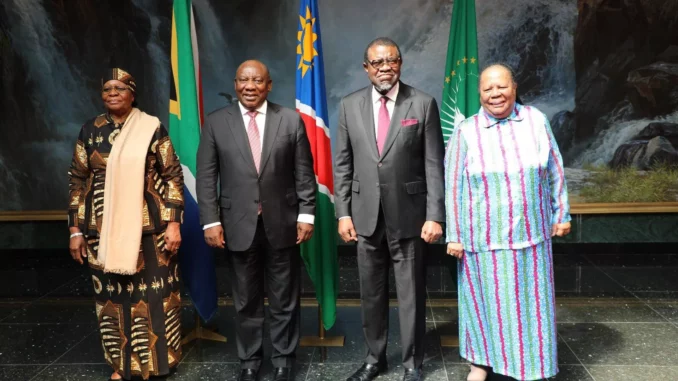 South Africa and Namibia have reached agreements in more than 150 areas which will deepen relations between the two Southern African countries.
This was announced on Saturday October 14 by President Cyril Ramaphosa during the South Africa-Namibia Business Forum held in Namibia.
"Our Ministers of International Relations tabled a report at the Bi-National Commission where they reported on up to 159 areas of agreement that they have worked on in the past few days. This process started after His Excellency Hage Geingob visited South Africa on a state visit earlier this year.
"This business forum was presaged by those agreements that they have been working on for all this time. To have had up to 150-something areas agreement is a truly outstanding feat…that is a result of real good hard work," he declared.
The President said the two countries can use the opportunities presented by the African Continental Free Trade Area to position themselves as an industrializing hub for the continent with a focus on increased trade between the two countries and with the rest of the continent.
On Green Hydrogen, one of the areas of agreements, the President said: "South Africa is in the process of considering and finalizing a Green Hydrogen Commercialization Strategy. Namibia too is implementing its green hydrogen strategy. We can either go it alone as South Africa and Namibia or we can position this part of the west coast of the African continent as a key green hydrogen region."
Turning to cross border value chains, President Ramaphosa said the two countries together have "the key elements of success".