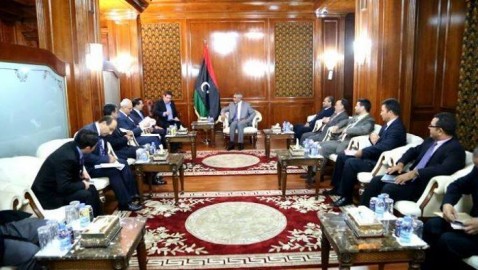 Turkish parliament member, Emrullah İşler, has been sent as a special envoy to Libya where he met with Prime Minister Omar al-Hasi of the Tripoli based government which is not internationally recognized. This is the first time Prime Minister Hasi is receiving an official from a foreign government or organization that has been made known to the public.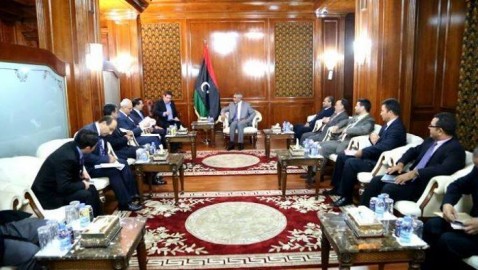 To assert the meeting between the two dignitaries, a picture was posted on the Tripoli based government's website showing them sitting in an office that once used to be occupied by Abdullah al-Thinni as Prime Minister before being force to flee by the end of August when forces loyal to the government were overpowered by a coalition of Islamist fighters known as Fajr Libya.
Although several high-profile foreign officials have visited Tripoli and Tobruk, they are only reported to have met with the Tobruk based government headed by Prime Minister Abdullah Al Thinni which enjoys international recognition.
The Turkish Foreign Ministry has declined to comment on the visit. However, Işler said that Turkey wants to play a role in ending the war and political crises in the North African country. "We as Turkey are ready to contribute to the dialogue process. For the dialogue to proceed, healthily clashes must stop" he said.
The United Nations and Western countries have tried to initiate talks between the different fighting factions but to no avail. Almost all the countries and international organizations have withdrawn their personnel from the country when fighting between the forces from the port city of Misrata and a rival group from the city of Zintan escalated in summer.
More than three year since the fall of the Gaddafi regime, Libya is struggling to find its way towards peace and stability.