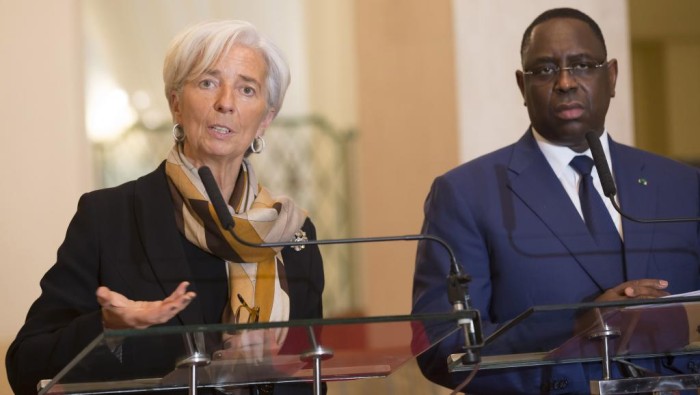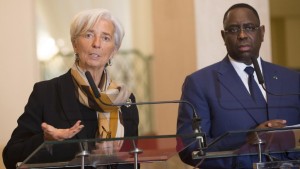 The Executive Director of the International Monetary Fund (IMF) left Dakar on Saturday night after a visit of three days in the country to appreciate the economic growth and the Senegal emerging Program (PSE) set up by the Senegalese authorities to 'accelerate the Senegalese economic and its diversification.
Before visiting Senegal, Lagarde was in Kigali (Rwanda) for four days visit as part of a tour of the two countries in sub-Saharan Africa. In the Rwandan capital, she met President Paul Kagame and other "officials" of the country.
In Dakar, Christine Lagarde met respectively the Senegalese Head of State, President Macky Sall, the Prime Minister Mohammed Dionne and the Finance Minister Amadou Ba. She also delivered an address to the National Assembly and had a dialogue with women leaders and students of business schools in Dakar.
Christine Lagarde also met with officials of the BCEAO (Central Bank of West African States) during a round table on the theme "Financial integration in the service of inclusive growth".
In a statement released on Saturday after his three-day visit to Senegal, Christine Lagarde praised " the authorities of the ambitious development plan that they have developed for the country, Senegal emerging plan that aims to double the medium-term economic growth of the country. "
" The vision PSE's aims are ambitious indeed, but they are achievable if there is a radical break with the past, " she has said. According to her, the IMF and the Senegalese authorities have " agreed that reforms are needed to be accelerated and deepened so as to create an economic space for SMEs and foreign direct investment. "
"These reforms could also diversify and expand exports and create jobs that are the foundation of economic growth benefiting all," said Ms. Lagarde, noting that existing efforts are to improve the efficiency of public spending' 'need to be strengthened.' '
Christine Lagarde said it was for her " a pleasure to have her first visit to Senegal as IMF Managing Director '. She thanked the President Macky Sall " for his hospitality and the quality of our discussions. "
She also thanked the Prime Minister Mohammed Dionne and Finance Minister Amadou Ba " for fruitful discussions" they had. Lagarde, who said she had the ''honour'' to give a speech before the National Assembly chaired by Mr. Moustapha Niasse, also notes that it was 'meaningful dialogue with women leaders and students of business schools Dakar".