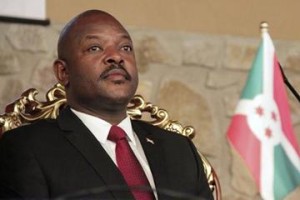 Burundi will be holding presidential elections in June but tensions are already rising on the possibility that President Pierre Nkurunziza could compete in the polls once again. The president has been silent about his decision but the debate over his legitimacy is on the brink of dividing the country. Some of his party members wrote to him urging him not to be a candidate because it could lead to a new round of violence in the country.
A letter signed by more than 70 members of the ruling CNDD-FDD Party amongst whom where dozens of senior officials fear that should President Nkurunziza bid for a third term in office, there can be renewed fighting between Hutus and Tutsis making reference to the years of fighting which ended in 2000. CNDD-FDD is a Hutu dominated party.
A deal brokered by Tanzania in 2000 limited the presidential term to two with a five year mandate. Nkurunziza has not said if he will run, but supporters argue that the former rebel leader is eligible because he was selected by lawmakers rather than voted into office in 2005 for his first term.
Meanwhile, 10 officials of the party who were signatories to the letter addressed to the president on Monday have been sacked. Amongst them are Nkurunziza, the party's spokesperson, three members of parliament and a provincial governor, newly-appointed CNDD-FDD spokesperson Gelase Ndabirabe said.
Member of Parliament Festus Ntanyungu was speaking on behalf of the signatories to the letter when he said that "the issue about a third term for the current president continues to raise tension and divide the Burundian people." He pledged that "for the sake of peace and to avoid violence, we asked … Nkurunziza to drop any attempt for another third term."