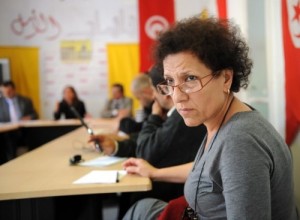 "Neither compensation nor hypocrisy, gang of thieves!", "Poor people are in need of this money!" and "Shame on those who profit from their political battles!" Such were the slogans chanted by hundreds of angry Tunisians who were demonstrating outside of the building where the interim parliament holds its sessions.
A bill which proposes the compensation of partisans of the Ennahda party has been unpopular in Tunisia and it is seen as another way of corruption. In the proposed bill, the ruling Ennahda party's partisans who suffered under the past two regimes, that of Habib Bourguiba and Ben Ali, will be compensated. The bill includes all the Tunisians who enjoyed a post-revolution amnesty to be liable but demonstrators consider it to be favoritism because the majority of the beneficiaries belong to the Ennahda party.
The head of the Tunisia's Workers Party, Hamma Hammami has vowed that he will not accept any compensation paid by the government to former political prisoners. The country's Finance minister has also resigned some few days ago in protest to the bill citing the government's spending "excesses" were aimed at "gaining the sympathies of certain social groups" ahead of upcoming planned elections, and estimated the bill would cost the state one billion dinars (about 500 million Euros).
The Islamist led coalition government has through its spokesman announced that it will delay the examinations of the bill "until studies have been carried out that will allow the government to reconcile the commitments of the state with balancing the budget". The spokesman added that the current government is abiding by the decision taken by the interim governments to compensate political prisoners.
The Justice Ministry has more than 11,000 Tunisians seeking for financial compensation for ill treatment under Ben Ali alone.