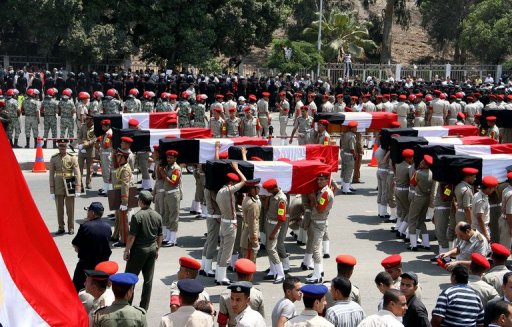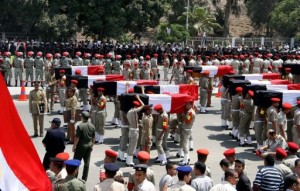 Following Sunday's deadly attack on Egypt's border with Israel, that left 16 Egyptian border troops dead, Egypt launched on Wednesday an air strike on militants in the Sinai, the first in the region since 1973, killing at least 20 terrorists.
The operation, described by the Egyptian media as the "Sinai cleansing operation," lasted 5 hours and was conducted in coordination with Israel.
In a statement read out on state television, the military said it has started a joint military-police ground operation in Sinai, backed by warplanes, to "restore stability and regain control" of the Sinai, under Egypt's control since the signing of the 1979 peace treaty with Israel, which completely withdrew its forces from the peninsula in 1982.
The resort to warplanes marked a sharp escalation in Egypt's fight against Islamic militants who have become increasingly active in the mountainous, desert peninsula bordering Israel.
Lawlessness has been growing in the Peninsula since the collapse of President Hosni Mubarak and militants have grown steadily bolder. Some militant groups have even expressed their intention to declare an Islamic state in the region.
The militants are said to be far better armed than the security forces on the ground, which have repeatedly come under attack by militants.
According to Egyptian security sources, over 2,000 Islamic militants reside in the Sinai region. Some o the terrorists were identified as members of the al-Qaeda affiliated Army of Islam which operates in Gaza. According to press reports, the groups receive weapons, including mortar launchers and high-caliber guns, trafficked from Libya and Sudan.
Anger is sharpening among many Egyptians over the persistent violence in the peninsula, which is harming tourism and exposing Cairo's inability, or lack of will, to rein in radical elements. Shortages of gas, electricity and water have spurred street protests and driven many young men to turn to smuggling or join the militants.