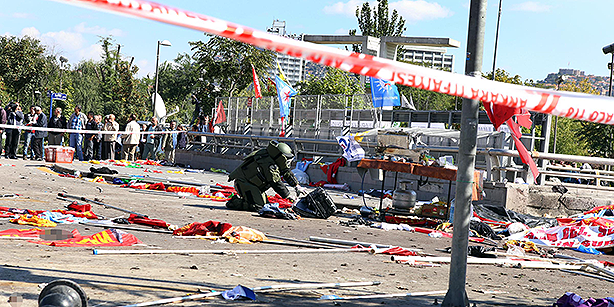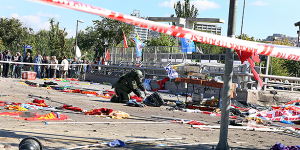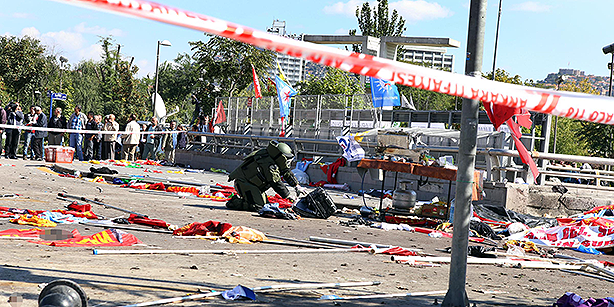 The international community has strongly condemned the Saturday deadly terrorist attacks in Ankara that killed around 95 people and injured more than 200 others.
Two twin bombs went off when hundreds of Kurdish and leftist parties' activists were staging a demonstration for peace in the Turkish capital Ankara.
No one claimed responsibility for the attack but authorities pointed blaming fingers to ISIL and the PKK-linkemonstrousd militants now in open confrontation with Ankara after the group ended the cease-fire sealed with Turkish authorities two years ago.
Soon after the attacks, leaders from around the world channeled in their condolences to Turkey, calling for global, bold stance against terrorism.
The United Nations, NATO, the United States, Russia, Saudi Arabia, and France, among others, have condemned the terrorist bombings and voiced support to Turkey in combatting shared threats of terrorism.
All messages denounced the attacks as "barbarous," "," and "horrific," voiced solidarity with Turkey and called for more joint efforts to fight the terror threat.
To get success against terrorism, all short-term interests should be put aside and should be concentrated on the main objective, fighting terrorism, said the Russian Foreign Ministry.
Relations between Moscow and Ankara are currently strained over Moscow's violation of Turkish air-space last week during its military air operation in Syria.
Saudi Arabia renewed solidarity with Turkey in the fight against terrorism in all its forms, while NATO, which expressed support for Turkey, said "there can be no justification for such a horrendous attack on people marching for peace."
"All NATO allies stand united in the fight against the scourge of terrorism," NATO said.
"We stand together in solidarity with the Turkish people and reaffirm our determination to continue to work with Turkey to combat the shared threat of terrorism," said the US State Department, urging all Turkish citizens to recommit to peace and stand together against terror.
The attacks come as Turkey is gearing up for general election on November 1 after the June 7 elections left no clear winner even though the ruling AK Party topped the results but fell short of clinching outright majority to form a single party cabinet. Consultations to form a coalition government failed. Build-ups to June 7 elections were also marred with tension. A blast at a HDP rally, just days before the June 7 polls, in the southeastern province of Diyarbakır killed five people. Critics of the Turkish government and the ruling AK Party claim that the attack was a maneuver by Turkish authorities to hamper support for the HDP said linked to the PKK outlawed movement.