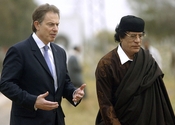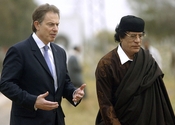 British paper the Telegraph hinted Sunday that former British Prime Minister Tony Blair might have deprived British citizens of Gaddafi's compensation for victims of Lockerbie plane bombing.
The Telegraph alleged that Tony Blair secretly visited Washington in 2008 at the request of Gaddafi to negotiate with then US President George W. Bush $1 billion deal with Washington as compensation for US victims of the plane bombing.
The paper suggested the deal was meant to secure billions of pounds as Gaddafi's assets were at risk of being frozen and following legal procedures launched by several courts in the US against the Libyan ruler for compensation of the terrorist attack victims.
The deal was to ensure that all cases in courts against the Libyan regime were dropped. The British paper also suggested that the deal culminated in $1 billion compensation received by the American victims leaving the British with no compensation.
"You will find that Mr Blair called on Mr Bush in Washington in February 2008. I do know there was a meeting between Mr Blair and Mr Bush subsequent to one of Mr Blair's visits to Libya," said the Telegraph's source.
According to the source quoted by the British paper, Blair visited Bush in Washington in February 2008 after a trip to Libya. "There was no deliberate plan to exclude Britons from the deal but that was a consequence. It was certainly the effect," the source said, deploring that the US did not allow British citizens to make a claim on the US compensation fund."
Blair reportedly did not respond to the allegations, but a committee in the British parliament is investigating Blair's involvement in the case and why he intervened on behalf of Gaddafi.
Blair is said to have visited Libya six times after he quitted his job as British Prime Minister in 2007 and before the fall of Gaddafi in 2011.