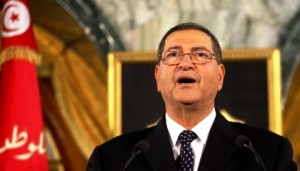 Tunisian Premier Habib Essid Thursday announced a series of measures including creation of 23,000 jobs for the first quarter of 2016.
Essid appearing again before the parliament following Wednesday extraordinary session, announced the creation of 23,000 jobs during the first three months of 2016. The recruitment project will be effective during the first quarter of the on-going year, he said.
Also part of the measures, Essid announced new recruitment in the security forces and in the military. He explained that the government every year enlists 30,000 people in the army while only 5,000 are currently operational. He said that once the recruits finish their military training they can be directly employed.
The government plans to re-activate 90 per cent of projects that have been shelved as these projects can provide jobs to scores of unemployed youth.
Among other solutions, the government indicated that it would lift some restrictions to incite entrepreneurship and boost the private sector.
Essid also told lawmakers he instructed all ministerial departments to determine their needs and launch recruitments they deem necessary in line with law.
Furthermore, a local media "tunisienumerique.com" indicated that Prime Minister Essid said he agreed with Wided Bouchamaoui, chairperson of the Tunisian business entrepreneurs' association to create 50,000 jobs in the various shopping malls that have been allowed to operate.
He also defended his cabinet saying that up to 70,000 people have been recruited so far during his tenure even though there is still much to be done.
Tunisia has been rocked by social riots led by youths and graduates on the dole who took to the street to claim better living conditions. The protests started nearly two weeks ago in Kasserine where a young 28 year old Tunisia died electrocuted after he climbed a power pole in protest to the removal of his name from a government job list. His death sparked widespread protests across the country including capital Tunis where protests were followed by lootings.
There are about 800,000 jobless people in Tunisia, including around 300,000 university graduates. The country registered a near zero economic growth in 2015 after the vital tourism industry was seriously hobbled by two major terrorist attacks which killed scores of people including 60 foreign tourists.