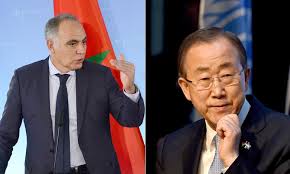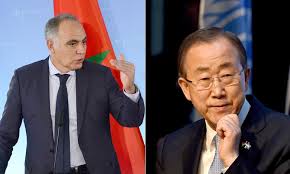 Relations between Morocco and the United Nations have entered a turbulence zone following the diplomatic blunder of the UN Secretary General during his recent visit to Algeria and the Tindouf camps.
After the vehement response made by the Moroccan Government and the Moroccan Parliament last week, after the march staged by more than 3 million Moroccans in Rabat on Sunday and after the demonstration organized in Laayoune, southern Morocco, by some 180,000 people on Tuesday, Morocco announced it will significantly scale down the civilian component of MINURSO, the UN mission supervising the cease fire in the Sahara.
The Kingdom also decided to stop its voluntary contribution to the functioning of MINURSO and said it is considering the withdrawal of Moroccan troops engaged in peacekeeping operations.
According to a statement of Morocco's Foreign Affairs Ministry, the North African country took these measures in response to the "inappropriate" and "unacceptable" remarks made by the UN Secretary General Ban Ki-moon on the Sahara issue and "reserves the legitimate right to resort to other measures that may be required, to defend, in strict line with the UN Charter, its supreme interests, sovereignty and territorial integrity."
The Moroccan Foreign Minister Salaheddine Mezouar held a meeting in New York Monday with the UN Secretary General and handed him a letter "detailing the formal protests" of Morocco and its rejection of his remarks regarding the Sahara issue during his recent visit to Algeria.
"Moroccan authorities consider that such acts are incompatible with the responsibilities and the mission of the Secretary-General that compel him to dutifully observe objectivity and impartiality and to respect the framework established by UN bodies," says the statement.
Mezouar reminded Ban Ki-moon that he committed a "legal absurdity" and a "serious political mistake" when he used the word "occupation" when talking about the presence of Morocco in its Sahara and that the UN Security Council never used such an offensive word in its resolutions on the Sahara. "Using this reference constitutes an insult to the Moroccan people and to a nation that has made heavy sacrifices to gradually regain its independence and defend its territorial integrity," the statement points out, adding that the referendum, mentioned by Ban Ki-moon, to settle this regional dispute "was dismissed by the Security Council, which calls, since 2004, for finding a negotiated political solution, based on realism and the spirit of compromise."
In its letter, Morocco also asked the UN Chief "to publicly clarify his positions to restore a climate of trust and mutual respect," the statement says.
Ban Ki-moon's blunder has marred his relations with Morocco but may have other serious consequences, mainly complicate further the already tense relations between Morocco and neighboring Algeria, the main stakeholders in the Sahara issue.