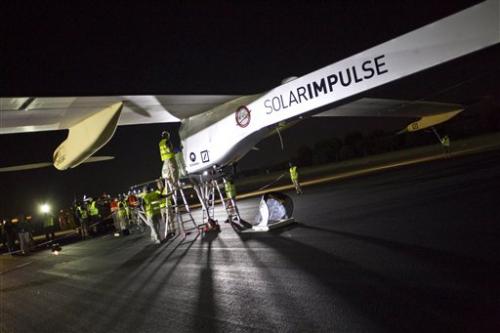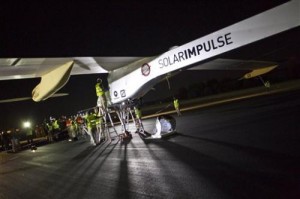 The Swiss-solar-powered plane "Solar Impulse" has "successfully" touched down in Morocco's capital airport Tuesday evening, making aviation history through its first world intercontinental flight, showing the potential of solar aviation.
This experimental aircraft, designed by Bertrand Piccard and André Borschberg, landed in Morocco at 23:30 local time after a flight lasting 19 hours/08 min. It took off Tuesday morning at 05:22 from Madrid-Barajas airport in Spain and crossed the Gibraltar Strait and the Mediterranean heading for Morocco.
The solar impulse crew has embarked on this challenging journey last May 24 from Switzerland and made a stop-over in Spain after 20-hour flight before reaching Morocco, completing 2,500-km historic trip without using a drop of fuel.
This ultra-weight revolutionary prototype plane has a wingspan of 63 meters as an Airbus A340 airliner. It is covered with 12,000 solar cells that charge lithium batteries which feed four electric engines. The plane's top speed is 70 km/h.
Its arrival in Morocco coincides with the imminent launch of the construction works of the largest-ever solar thermal plant in the Southern region of the Kingdom. Solar Impulse supports this pioneering project including five solar parks expected produce 2000 megawatts by 2020 and cut CO2 emission.