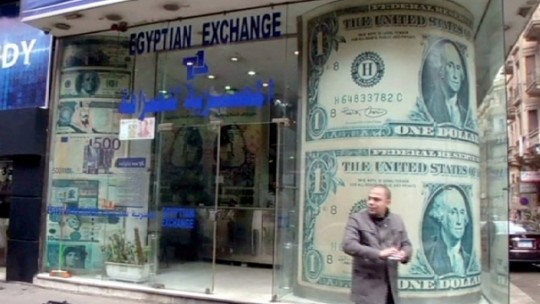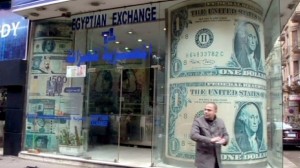 As the Egyptian pound reaches 6.1858 to a dollar, its lowest in 8 years, the central bank is urging Egyptians to "ration" their foreign currency use and support national industries. The Central Bank has decided to introduce a new system of buying and selling foreign currency in the form of foreign-exchange auctions to scale back dollar and prevent a currency crisis fuelled by the country's political turmoil.
According to bankers, the new system is comprised of regular currency auctions modeled to permit the Egyptian currency float more freely with its price more closely reflecting supply and demand. The central bank said it was necessary because foreign-currency reserves dropped to the "minimum and critical level that must be preserved." The bank will now be selling dollars in periodical auctions as it reserves lower below 60%, equivalent to $15billion, since Mubarak's ousting. Present reserves can only assure 3 months of importation, with reference to the bank's data, which is the minimum that IMF recommends for a foreign currency cushion.
According to reports, the central bank sold $74.9 million of US currency to banks at a cut-off price of 6.2425 after the decision. The recent decision is considered to be the country's final options before devaluation; an option Egypt is trying hard to avoid before resuming negotiations with the IMF.
Holders of the Egyptian pound are worried that more capital controls might be introduced while investors expect a 15% drop of the currency in less a year following a 1.2% weakness registered this month.
Previously, the central bank had allowed the Egyptian pound to fluctuate within a small range against the dollar and it has spent more than $20 billion in foreign reserves in the past two years to defend the pound.