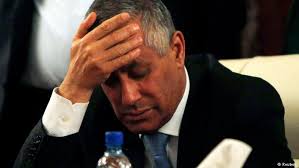 Former Libyan Prime Minister, Ali Zidan, has been taken away by armed men reported to be members of the Tripoli Revolutionaries Brigade (TRB) in Tripoli on Sunday.
The former Libyan top ranking government official was lodged at the Victoria Hotel in Tripoli when he was taken under custody. His whereabouts are currently unknown as there has not been any statement by any authority or armed group claiming responsibility.
Zidan left Libya in 2014 after he was sacked from his position as Prime Minister by the General National Congress (GNC). He has been living in Germany since then, but has often visited his native country.
A source from the Libyan Interior Ministry claimed that his 'arrest' is in compliance with an arrest warrant issued by Attorney General Sadiq al-Sour in Tripoli.
The TRB is a militant group under the command of Haytham Tajouri who is loyal to the UN-backed Government of National Accord (GNA) based in the capital. The source added that prior to his arrest, Zidan was received by the Presidency Council, which asked him to stay at the hotel.
Reasons of his arrest are still unclear. According to some press reports, during a tour last month to numerous Libyan towns, including Sebha, he called for the partition of Libya. He firmly denied making such statements and reiterated his support for the territorial integrity of the country, stressing that he has refrained himself for political matters.
In October 2013, Ali Zidan, who was then Prime Minister, was abducted in Tripoli's Corinthia Hotel and taken as a hostage allegedly by angry locals. Zidan had held some members of the GNC responsible for his abduction. The ordeal lasted for a few hours before he was released.