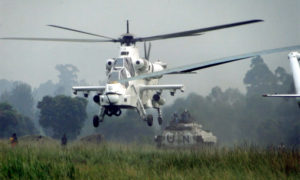 The Uganda People's Defence Forces (UPDF) and the Congolese Army (FARC) have killed over 100 Allied Democratic Forces (ADF) combatants in eight camps that were recently struck by joint airstrikes, local media reports.
According to Brigadier Richard Karemire, UPDF spokesperson, the operation dubbed 'TUUGO' which started on Friday December 22, has so far been a success and will be carried on to its logical conclusion.
He said most of the ADF historical strongholds were in Eastern DRC areas of Erengeti Triangle – North Kivu Province. ADF is a Ugandan Islamist group active in Congo since 1993.
Congo, almost the size of Western Europe and the world's largest source of cobalt, has for two decades struggled to defeat dozens of local and foreign militias in the Eastern region. There are about 120 armed groups in North and South Kivu provinces, up from 70 two years ago.
The joint airstrikes follow the deadly ADF attack that killed 15 UN Peacekeepers and 5 Congolese soldiers in Beni, North Kivu on December 7.
Violence between militias and the government has simultaneously flared up in the provinces, including the central Kasai region, where an estimated 5,000 people have died and 400,000 children under five are at risk of starvation, according to United Nations figures.