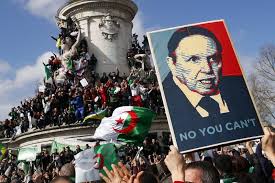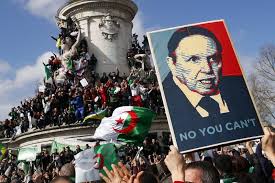 Algerian President Abdelaziz Bouteflika will resign before his mandate ends on April 28, state news agency APS said on Monday.
The announcement comes a day after protest-hit Algerian president named a new government headed by recently appointed Noureddine Bedoui.
Ailing Bouteflika, who has rarely been seen in public since a 2013 stroke, has come under mounting pressure to quit power since his decision to seek a fifth term sparked huge demonstrations.
According to APS, Bouteflika, who is 82, would take important decisions to ensure "continuity of the state's institutions" before stepping down. The agency did not spell out a date for his departure or give more details immediately.
Last month, Bouteflika dropped plans to run for a fifth term. But he gave no timetable for his exit, advocating a national conference on reforms to address the outpouring of discontent over corruption, nepotism, economic mismanagement and the protracted grip on power of veterans of the 1954-62 liberation war.
Faced with persistent public anger, a succession of veteran Bouteflika loyalists have deserted the president in recent days.
A fighter in the 1954-1962 war to end French colonial rule, Bouteflika championed post-colonial states, challenged what he saw as the hegemony of the United States and helped turn his country into a seedbed of 1960s idealism.
He was first elected president in 1999 and negotiated a truce to end the fighting with Islamist militants, which killed an estimated 200,000 people in the country during the black bloody decade.