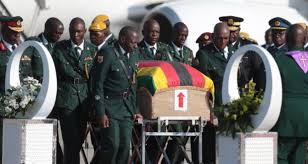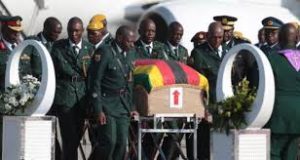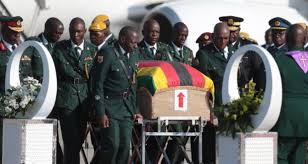 Zimbabwe's ex-president Robert Mugabe will be buried Sunday, September 15 in his village, family sources said on Thursday.
The ex-president passed away last week in Singapore, at the age of 95.
The government and his family are reportedly in disagreement over the location of his final resting place. While the government wants to bury him in the National Heroes' Acre, the family is reportedly opposed to the idea, arguing that Mugabe had since fallen out with the current regime.
"His body will lie in state at Kutama on Sunday night… followed by a private burial – either Monday or Tuesday – no National Heroes' Acre [the national monument for liberation heroes]. That's the decision of the whole family," his nephew Leo Mugabe told AFP news agency.
The former leader's body arrived in the capital, Harare, for a welcome at the Robert Gabriel Mugabe International Airport, which still bears his name. A military guard of honor stood to attention as the casket, draped in the national flag, was removed from the aircraft.
"The light which led to independence is no more, but his works, his ideology will continue to guide this nation," President Emmerson Mnangagwa told those present at the airport ceremony.
Last week, Mnangagwa declared Mugabe a "national hero", with flags flying at half-mast across Harare.
But the legacy of Mugabe's 37-year rule among ordinary Zimbabweans is disputed, with the former leader having been ousted by the military as public opposition grew over his stewardship of the country.
On Thursday, ordinary Zimbabweans and supporters are expected to pay their last respects to Mugabe at a Harare soccer stadium, where the body will lie in state before being taken to his rural home in Kutama, 85 km (52 miles) from the capital, the family spokesman said.
The Zimbabwean government said in a memo sent to embassies that it planned to hold a state funeral for Mugabe in the National Sports Stadium on Saturday, with a burial ceremony on Sunday.