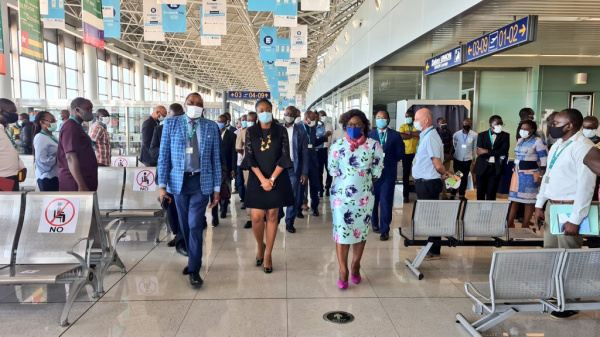 In Togo, the international airport Gnassingbé Eyadéma of Lomé has resumed its commercial flights since Saturday. Several measures are being taken to prevent the contamination or spread of the coronavirus disease. RFI visited the site.
At the entrance to the terminal on the departure level, a hand-washing facility is in place and the floor is marked for distancing. The traveler presents his or her travel document to the immigration service and then enters a tunnel where an electronic thermometer indicates the temperature.
Next door, an agent from the airport's health control service checks the results of the nasopharyngeal PCR test, to be done seventy-two hours before departure: "We are screening (sorting, editor's note) passengers and disinfecting their hands, taking their temperature… in short, all the measures related to the coronavirus".
The passenger exits the disinfection tunnel and passes through an electronic door that indicates his temperature again. After these preliminaries, the traveler is given access to the terminal lobby, which is decked out with posters promoting awareness of coronavirus disease.
For the director of the national civil aviation agency, everything must be done to ensure that those in the hall are healthy: "We are all unanimous in saying that we are ready. Our objective is to resume activities without an exponential increase in the number of sick people. We have to get everything under control.
On departure and arrival, the presentation of the PCR test result is mandatorily required for all travelers. In North Africa, Tunisia was the only country to lift all restrictions on the reception of travelers, in the hope of getting its economy back on track. Several countries whose economy is based on tourism, such as Kenya, Tanzania and Botswana, have reopened their airports in the hope of avoiding the worst for these sectors, which have already been severely weakened by the long months of inactivity.
South Africa, the country most affected by the pandemic on the continent, is not expected to see a resumption of international flights until 2021.