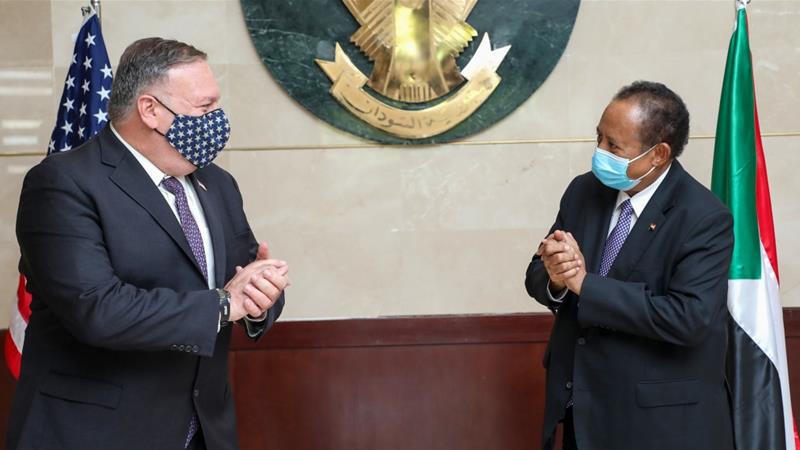 After obtaining, in mid-August, a historic agreement to normalize relations between Israel and the Emirates, the U.S. Secretary of State is on an international tour. Mike Pompeo now travels to Bahrain and the Emirates after a visit to Israel and yesterday, August 25, to Sudan. It was the first time a head of diplomacy has visited Khartoum in fifteen years. Washington is pushing for the Sudanese to get closer to Israel as well, but the government is refusing to do so for the time being.
Mike Pompeo wants Sudan to normalize relations with Israel in turn. But despite the historical side of his visit to Khartoum, the head of the Sudanese government has put a stop to it.
Prime Minister Abdalla Hamdok explained that his cabinet did not have a mandate to decide the issue. The Forces for Liberty and Change (FLC), the powerful coalition of parties and civil society, said so on Sunday, August 23.
The Prime Minister followed this line, probably anxious not to alienate the FLC, while the country has been experiencing strong social unrest for weeks against a backdrop of economic stagnation.
The head of government also asked the Americans to "dissociate" relations with Israel and the removal of Sudan from the list of countries supporting terrorism. Indeed, many believe that the Americans are trying a maneuver: if Khartoum moves closer to the Hebrew state, it will be removed from the list, which will greatly relieve its economy.
But according to Cameron Hudson of the Atlantic Council, Washington expects more, perhaps with electoral ulterior motives. According to the researcher, the rehabilitation of Sudan could be "linked to a broader Middle East peace plan, with Israel and as many Arab countries as possible moving closer together.
According to Cameron Hudson, this would allow President Donald Trump to achieve "diplomatic success in the region, a month before the American election.