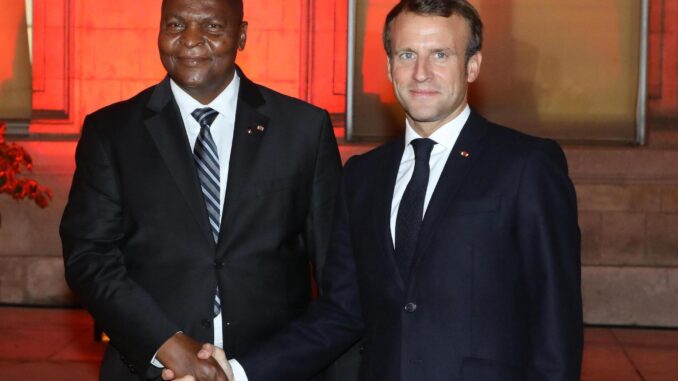 D-3 before the date of the presidential and legislative elections in the Central African Republic. The authorities are determined to hold the vote on the scheduled date, Sunday, December 27, despite pressure from armed groups to try to disrupt the vote, against a backdrop of tensions and rumors. French President Emmanuel Macron gave his support to the Central African President Touadera exchanged Wednesday made public in a press release of the French presidency.
"The President of the Republic urges Central Africans to remain calm and prepare for the vote on 27 December."This is the text message that the Central African authorities sent to the population on Wednesday 23 December. A message without ambiguity, to remind that the objective is to go to the polls this Sunday, despite the attacks of recent days.
Earlier in the day, the strategic committee set up by the Prime Minister to oversee the process held an evaluation meeting. The hypothesis of a postponement, called for by several candidates, was not discussed. In the country, the day was quieter than the day before, but the armed groups maintain their pressure. Clashes have again been reported on the outskirts of Boali, around 100 km from the capital Bangui, where in the morning a wind of psychosis gripped the population. rumors denied since then of an imminent attack caused scenes of panic, a sign of the nervousness that reigns in the run-up to the polls.
In this climate, the election of the new bureau of ANE, the authority in charge of the elections, has been postponed to this Thursday 24th December. At the end of the day, the Interior Ministry decided to suspend for one month, the circulation of motorbike taxis at night throughout the country between 8pm and 5am.
The United Nations Department of Peacekeeping Operations said it was determined to ensure that "nothing will prevent this electoral process" described as "crucial" for the Central African Republic. In Geneva, the Office of the United Nations High Commissioner for Human Rights (OHCHR) is alarmed by an "escalation of violence fuelled by political grievances and hate speech, which poses serious risks to the security of civilians and the exercise of the right to vote" and leads to the forced displacement of civilians, according to Liz Throssel, spokesperson for the Office of the High Commissioner.
President Macron recalled "France's constant commitment alongside the Central African authorities and the Central African people". France condemns directly and by name François Bozizé who, in its view, is seeking to obstruct the implementation of the peace agreement and the holding of elections.
President Macron, at the request of President Touadéra and in agreement with Minusca, has carried out a "demonstration of presence" flight. This came several days after the first actions on the ground by the Central African Republic's partner forces, including the Russians and Rwandans. A mission that marks "the condemnation by France of attempts to destabilize the country" firmly concludes the French presidential statement.