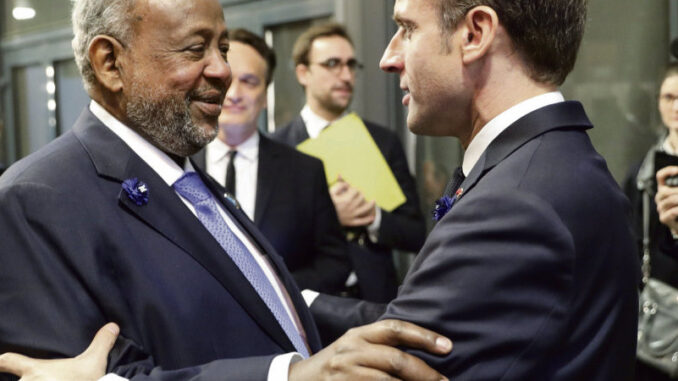 Djibouti's President Ismael Omar Guelleh is in Paris on Friday, February 12. After meeting with French employers and the Senate the day before, he is scheduled to have lunch with President Emmanuel Macron. On the menu of the two Heads of state, a tax agreement between the two countries, French investment in Djibouti, and the renewal of a defense agreement.
President Ismael Omar Guelleh was to visit Paris long ago, but the fate of a naval base at the end of a peninsula north of Djibouti City, has delayed several times, it is said. As part of a defense agreement that must be renewed before its expiry, Paris wants to keep this base, but Djibouti wants to replace it with a business district: it is not certain that a compromise is still found between the two capitals.
But President Guelleh also comes to talk about French investment in his country. An agreement with the Provence-Alpes-Côte d'Azur region (PACA) is about to be signed, as well as with the electrician Engie. This while the previous Franco-Djiboutian meeting in March 2019, Djibouti had regretted the timidity of France. China, on the other hand, has largely financed infrastructure and even a railway line leading to Addis Ababa, replacing the old French train.
Moreover, this meeting between the two presidents is also taking place in a sensitive political context. Djibouti stood back from the deadly conflict of its Ethiopian neighbor in Tigray, however involving its rival Eritrea.
In addition, President Guelleh is running for a fifth term in April 2021, facing an opposition that will boycott the election. The latter calls on Djibouti's foreign partners to help, to avoid greater disorder in this strategic African country.
According to Daoud Houmed, spokesman for Djibouti's presidential majority in Europe, "politics" and elections will be discussed during the visit to Paris. According to him, they "will take place in the best possible condition".
The Djiboutian authorities therefore claim to be serene. But this is not the opinion of Adan Mohamed Abdou, president of the opposition coalition, the Union for National Salvation (USN): for him, the French president should warn his Djiboutian counterpart about the consequences of a presidential election held in poor conditions.
For Adan Mohamed Abdou, president of the Djiboutian opposition coalition, Emmanuel Macron should warn his Djiboutian counterpart about the presidential election.