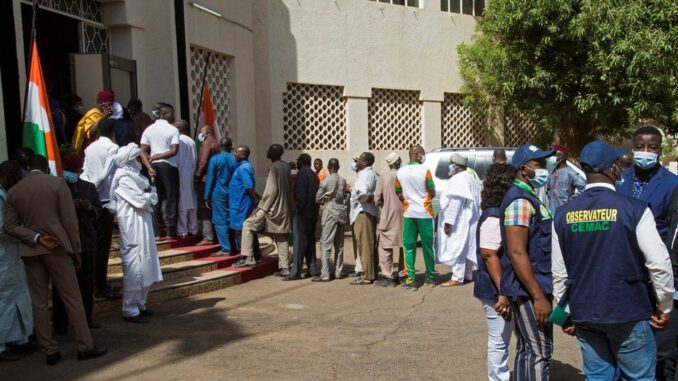 Nearly 7.5 million voters were called to the polls this Sunday for the second round of the presidential election that pits the ruling party's candidate, Mohamed Bazoum, against opponent and former president Mahamane Ousmane.
Election day in Niger was marked by the death of seven members of the Electoral Commission, killed in the explosion of their vehicle on a mine. Three others were seriously injured. The tragedy occurred this morning in the rural commune of Dargol, in the "three borders" region, not far from the Burkinabe Gourma, said our correspondent in Niger Moussa Kaka. Several villages in this area were therefore unable to vote.
Another incident occurred in a village in the prefecture of Bankilaré, in the same "three borders" zone. Armed men on motorcycles abducted a 4×4 and ransacked two polling stations. They stripped its members before releasing them.
In the rest of the country, the voting day took place without major incidents. This was the case in Niamey. While voters flocked to the opening of several polling stations, this was not the case at midday in the C.E.G.VI school in Niamey. A few people were dribbling in and out of the school's polling stations. Members of the security forces were visible.
A member of office number 7, which has more than 400 students, explained that there has been little traffic since this morning, at least less than in the first round, in this office. According to him, on December 27th, at the same time, there were queues of voters in the courtyard.
There was sometimes a few minutes delay in the opening of the offices scheduled for 8:00 am, just enough time to finalize the final preparations.
In mid-morning, the outgoing head of state also came to put his ballot in the ballot box. "It's a great day," Mahamadou Issoufou told the press as he left the polling station, stressing that Niger faces many challenges that require strong democratic institutions to meet them.
Let us recall that the Nigerien president is not a candidate for his own succession. After his two terms in office, he hands over the reins, as provided for in Niger's Constitution.
The only false note is this press release from the Céni. Its services dismantled a distribution network of false ballots, printed in Nigeria and delivered in the town of Kore May Rouwa "on behalf of a competing political party. These false ballots have already been distributed in several communes in the Dosso region, according to Céni. It is the same in Dabaga, north of Agadez. The gendarmerie has opened an investigation and several people have already been arrested.