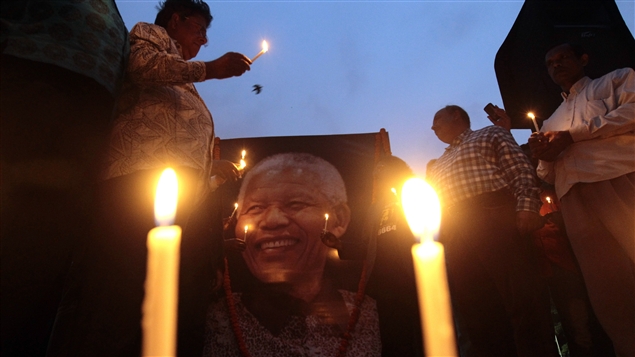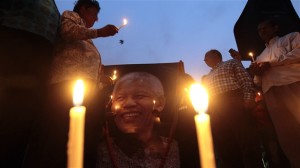 Tens of thousands of South Africans and an unprecedented number of heads of state and government, politicians, celebrities, artists, athletes, chroniclers, anchors… from around the world gathered on Tuesday at Soccer City in Soweto to pay their last respects to the South African Giant, Nelson Mandela.
Even the skies wept on Tuesday the death of Mandela, soaking a frenzy rainbow crowd come to say goodbye to Madiba, the great, but also to celebrate his life and enduring legacy.
No memorial in modern history has attracted such unprecedented number of mourners who flocked to the stadium to pay tribute to the Black Hero lost not only for his country but for the entire world.
"This grandest of all baobab trees left deep roots that reach across the planet," UN Secretary General, Ban Ki-moon, said, addressing the crowd at the soccer stadium.
He was an inspiration not only for his country but for the world, Ban said adding that "Nelson Mandela was more than one of the greatest leaders of our time. He was one of the greatest teachers. And he taught by example. He sacrificed so much and was willing to give up everything – for freedom and equality, for democracy and justice."
"His compassion stands out most. He was angry at injustice, not at individuals. He hated hatred, not the people caught in its grip. He showed the awesome power of forgiveness – and of connecting people with each other and with the true meaning of peace. That was his unique gift – and that was the lesson he shared with all humankind."
The UN Secretary General's statement actually translates some of the outstanding qualities of the Father of apartheid-free South Africa.
President Barack obama, who was among nearly 100 world leaders attending the memorial service, said if it is hard to eulogize any man it is "much harder to do so for a giant of history, who moved a nation toward justice, and in the process moved billions around the world."
Obama who likened Mandela to Mahatma Gandhi, Luther King and Abraham Lincoln said "Madiba would emerge as the last great liberator of the 20th century," who "taught us the power of action, but he also taught us the power of ideas."
Obama who also talked of Mandela's generosity and reconciliation lessons had, before taking the floor to deliver his eulogy, a handshake with Cuban President Raul Castro when he was greeting a line of world leaders attending the memorial. Has Mandela's reconciliation lesson been heeded?
Mandela, affectionately called Madiba, passed away last Thursday at the age of 95. The late human rights advocate, who spent 27 long years in prison for his struggle against racial segregation, succeeded, thanks to his ideals, devotedness and big heart, to make South Africa operate a peaceful transition. He was the first democratically-elected President of post-apartheid South Africa in 1994. Once in power, the champion of the struggle for equality turned into a great reconciliatory champion, multiplying moves and acts of forgiveness towards the former white oppressors.
The Nobel Peace Prize winner refused to run for a second presidential term, leaving the political arena to devote himself to social actions.
After the Tuesday memorial, the casket will lie in state in the government's headquarters in Pretoria from Wednesday to Friday. On
Saturday the casket will be conveyed to his native village of Qunu where he will be buried at the side of his parents and three of his children during a traditional ceremony on Sunday.
May the Giant of the twentieth century, who has reconciled his country's rainbow people after decades of racial segregation, rest in peace and may the world embrace Madiba's legacy of struggle against injustice and inequality, legacy of fight for freedom and democracy, legacy of love of reconciliation, tolerance and forgiveness.