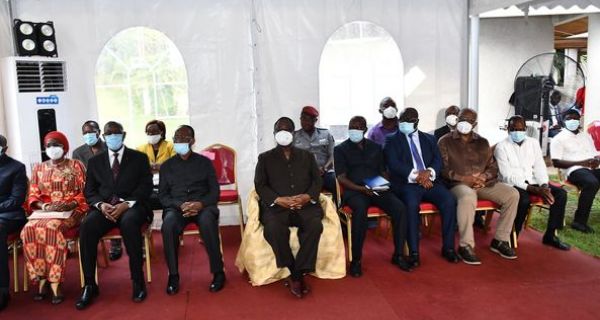 The oldest party in Côte d'Ivoire is celebrating its 75th anniversary. At the ceremony to launch the commemorative events at the party's headquarters, Executive Secretary Maurice Guikahué, and President Henri Konan Bédié, stressed the need to "question" the functioning of the governing bodies.
In front of party activists and representatives of other opposition movements, Henri Konan Bédié delivered a fifteen-minute speech with very political overtones. He denounced the "unconstitutional third term" of Alassane Ouattara, and painted a bleak picture of the country's recent history, speaking of a "torn social fabric" and a "disfigured Ivory Coast".
He noted a tipping point: the 1999 coup d'état, when he was deposed and the PDCI was forced to let go of the reins of power. "How many deaths in 1999! In 2002, so many deaths! In 2010 and 2011, what deaths! In 2020, what political exiles and young people sacrificed… "
If the power is thus pointed to the finger, the president of the PDCI also stressed the need to reform the party. A minority in the Assembly, absent from the executive branch, the former single party has lost its influence in the country. Its electoral strategy for the 2020 election has been strongly criticized, particularly by young party officials.
Faced with electoral failures, "HKB" now wants to "modernize the party" and "strengthen internal democracy. "The PDCI-RDA must resume its role as the nation's master builder," insists Henri Konan Bédié.
Secretary Maurice Kakou Guikahué spoke of a six-month project during which the PDCI will launch "reflections […] from the top to the bottom". Maurice Kakou Guikahué added: "We must recognize that the actions undertaken in recent times have had some weaknesses. As for the real availability of our delegations on the major activities of the PDCI-RDA on the ground. "
The restitution of this work will be held from October 15 to 18, 2021, on the occasion of a national symposium.