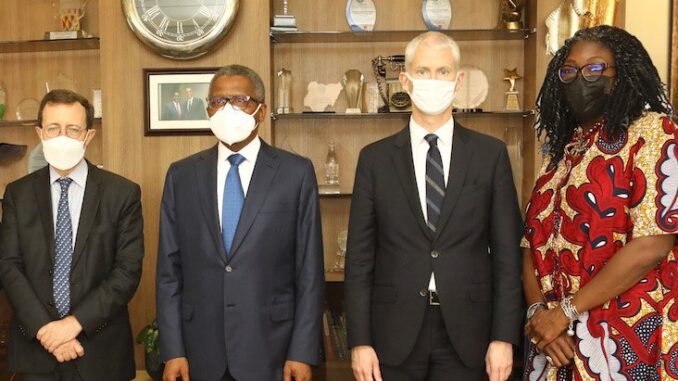 Franck Riester, France's Minister Delegate for Foreign Trade and Investment Attractiveness, was in Nigeria from Monday 12 to Wednesday 14 April to prepare for the 18 May summit on the financing of African economies and the Africa-France summit in Montpellier, scheduled for July. After having exchanged in Abuja with Vice President Yemi Osinbajo and the Nigerian Governors Forum, he went to Lagos on Wednesday, where he met with several big bosses, members of the Franco-Nigerian investment club launched in July 2019 by Emmanuel Macron.
Nigeria remains France's leading trading partner in sub-Saharan Africa and fourth on the continent. And this even if this trade has declined due to the coronavirus pandemic, according to the Minister Delegate for Foreign Trade, Franck Riester, visiting the country:
"We were at a cruising speed between 4 and 5 billion dollars of trade. We have fallen to 2.3 billion dollars in 2020. I am very optimistic for 2021 and 2022. In any case, we will mobilize for it. That's why I'm here, too. "
Peugeot's imminent resurrection in Nigeria
Oil imports constitute the bulk of trade between the two countries. In September, Franck Riester accompanied the signing of a partnership between the French group Axens and the Nigerian BUA for the construction of a refinery in Akwa Ibom. "This refinery could open in three or four years. Nigeria continues to import almost all the refined oil it consumes. Nigeria alone represents a huge market in this sector," said BUA Group Chairman Abdul Samad Rabiu.
In Lagos, the French delegation also visited Aliko Dangote, the richest man in Africa. "We have an agreement to revive Peugeot in Nigeria. And we hope to start car production in Kaduna at least in June or July," he said.
Franck Riester insisted on the need for a sustainable and reciprocal Franco-Nigerian partnership, in all sectors of the economy.